JD Institute's Annual Fashion Show at Dibrugarh Says NO to Leather
Recently, PETA India became associated with the JD Institute of Fashion Technology's annual show in Dibrugarh to promote our campaign against leather. It was a terrific experience to see the students display their remarkable range of vegan fashions.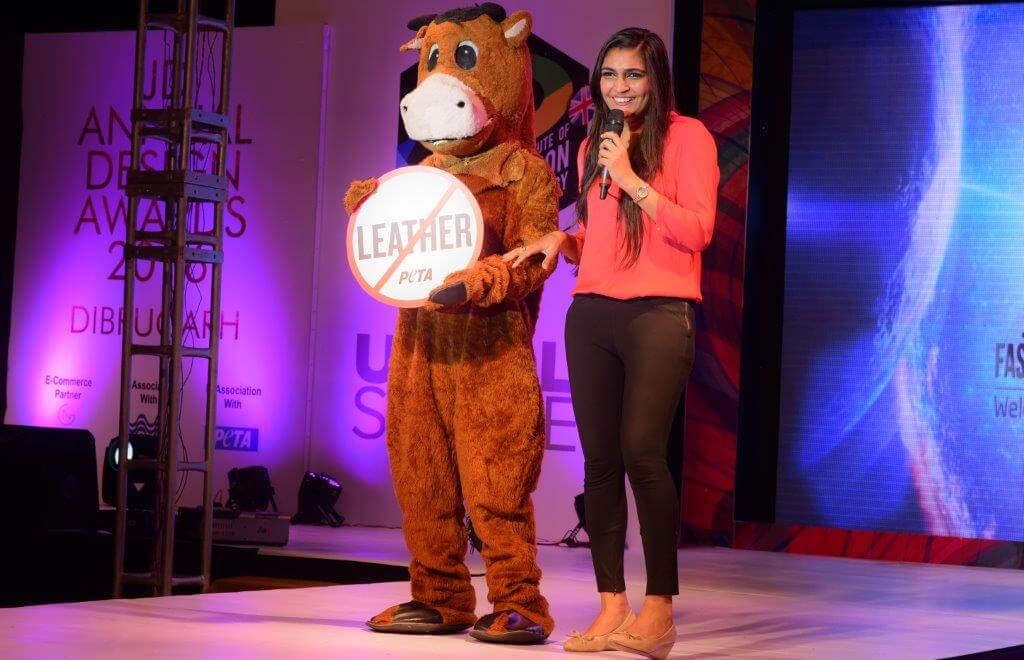 Designers Jinti Sonowal, Sabitri Shah, and Joyshree Lekharu used the theme of tau'olunga to display handwoven wrap-around jute dresses in subtle colours. They used accessories made of organic and natural products such as leaves and fragrant flowers.
Another fascinating display, by designers Mansham Ronrang and Poonam Chetia, was called "Poupée de la Beauté – the Untold Story of a Doll". It was inspired by traditional dolls made of corn husk. The collection included soft and subtle hues as well as beautiful cuts and flares.
Former students Priyanka Buragohain and Nitu Kachari, who now work as freelancers, lit up the ramp with their fresh collections. Priyanka's designs were inspired by tribes of the Northeast but were modified to suit modern tastes. Her designs have been appreciated widely when showcased at the Northeast India Fashion Weekend, Assam Couture Week, Guwahati Fashion Week, and Fashion Forecast. Nitu's collection was spectacular in true northeast flavour: colourful and joyful! She has been rated among the top 15 designers of the Northeast and has also received an award from Rohit Bal.
Benazir Suraiya, PETA India's associate manager of celebrity and media projects, participated in the show and walked the ramp with PETA's "cow" mascot to raise awareness of how buying leather directly supports the misery of the slaughterhouse. She also enlightened the audience that just about anywhere you shop, you can find a wide selection of jackets, shoes, and accessories made from non-animal materials.
You can help put a stop to the use of animals for leather by signing our pledge today and promising that, from this day forward, the only skin you will be in is your own. [Pledge link: http://action.petaindia.com/ea-action/action?ea.client.id=111&ea.campaign.id=8499]