Contest Closed- Enter PETA India's Contest for a Chance to Win 'For a Moment of Taste'
Need to know why you should go vegan in 2022? Try your luck at winning a copy of For a Moment of Taste: How What You Eat Impacts Animals, the Planet, and Your Health by Poorva Joshipura. This book is the first-ever in-depth exposé of what happens to animals commonly used for meat, eggs, and dairy in India for what is, after all, a fleeting moment of taste.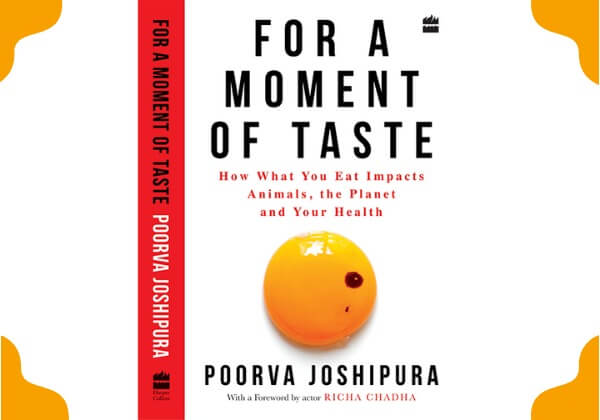 With a foreword written by actor Richa Chadha, For a Moment of Taste describes the emotional and intellectual capabilities of animals commonly eaten in India, the historical developments that led to our animal-based food production systems, and the unhygienic, torturous conditions that animals are forced to endure from birth to slaughter. In this riveting, in-depth exposé of the horrors that animals exploited and killed for food experience, Poorva also explains the negative impact that animal agriculture has on the environment and human health, along with the consequences if humans don't change their current eating habits and trends.
PETA India is giving away this book to 5 randomly selected winners. As the former CEO of PETA India, Poorva's unique insights into and personal observations of the destruction caused by meat, egg, and dairy production in India make for an absolute must-read. Try your luck at scoring a copy by entering our contest today!
Submit your entry using the form below.
Best of luck, and keep helping – not eating – animals!
This contest is open to residents of India only. The call for entries closes on 28 October, and the winners will be notified via e-mail by 31st October.
Are you a US resident? PETA US will show you some love by hooking you up with lots of other cool contests!
This contest is closed.