Enter PETA India's Contest to Win a Stunning Vegan Scarf by Designer Purvi Doshi
This contest is now closed. 
The winner is Shipra Sood. Congratulations!
Purvi Doshi's special Marine Runway collection – dedicated in support of PETA India's "Fish in Tanks? No, Thanks" campaign – made a stylish splash when it debuted in Mumbai on 15 February. Purvi uses only cruelty-free materials for her coveted designs and knows firsthand how vegan fashion is taking over the fashion industry. That's why she won PETA India's Compassionate Designer Award last year, and she's spreading the word even more by giving a gorgeous scarf from her new collection to one randomly selected winner. Enter PETA India's contest today for a chance to own one of her cruelty-free creations.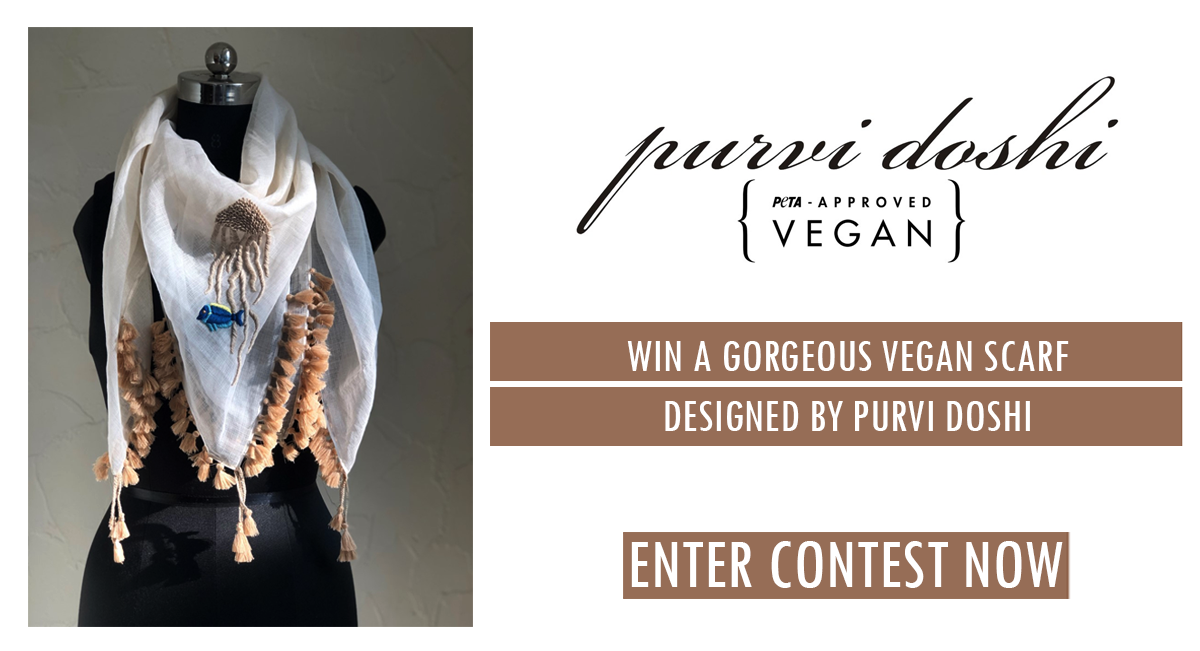 Not only is this scarf elegant, it also depicts aquatic animals in their natural environment, where they belong. Fish don't want to be stolen from their homes and imprisoned in bowls or tanks, where they have no choice but to swim in endless tiny circles under the glare of artificial lights and with the incessant drum of electric pumps. Experts have proved that fish experience fear, pain, and stress, so it's no surprise that imprisoning them causes loneliness and deprivation. No aquarium, regardless of its size and quality, can ever compare to the vast open waters of oceans, rivers, and lakes.
Divers squirt cyanide into the water to stun fish so that they'll drift out of a reef for easy collection. Marine experts estimate that half the affected fish die on the reef, and 40 per cent of those who survive the initial poisoning die before they reach an aquarium. Approximately 90 per cent of freshwater fish are bred in captivity on filthy, crowded farms.
Stand up for our finned friends by never purchasing fish or supporting businesses or fairs that give them away in contests or promotions. And don't forget to follow Purvi on Facebook and Instagram to learn more about her compassionate collections.
This contest is for residents of India only. The call for entries closes on 7th March, and one winner will be announced by 8th March. No purchase necessary. Void where prohibited by law.
Are you a US resident? PETA US will show you some love by giving you opportunities to enter lots of other cool contests!
By filling out this form, you are agreeing to our terms and conditions.
By signing up here and giving us your contact details, you're acknowledging that you've read and you agree to our privacy policy.