Richa Chadda Gets Leafy Look in New PETA Ad
[peta-share-overlay]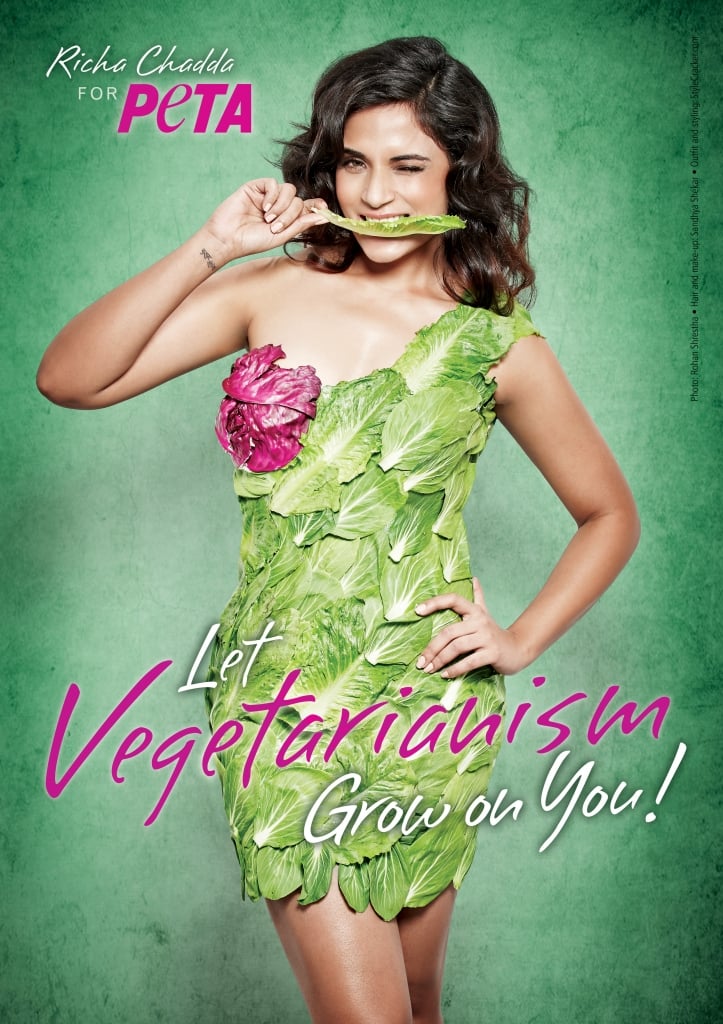 [/peta-share-overlay]
Vegetarian model-turned-actor Richa Chadda poses for PETA while donning a dress made of lettuce to promote going meat-free.
Decked out in delectable greenery, Richa Chadda is enticing people who care about their health and about animals to drop meat from their diet. The Gangs of Wasseypur star's edible outfit was styled by StyleCracker.com, and her hair and make-up were done by Sandhya Shekar. The ad was shot by top photographer Rohan Shrestha.
"Since I was a kid, I have been really in love with animals. … I just could never imagine having one of them for a meal",  the Filmfare Critics Award winner says.
The B-town beauty and Cannes Film Festival stunner is no stranger to activism, having recently posed as a "mermaid" for a PETA ad urging fans to stop eating fish and to try vegetarianism instead.
Billions of animals are violently killed for food each year. PETA's hard-hitting expose of India's meat industry, "Glass Walls" uncovers how animals on factory farms are injured during transport to abattoirs, where workers hack away at their throats with dull blades.
In addition to harming animals, meat consumption is harmful to human health, as it has been linked to a risk of developing diabetes, cancer, strokes and heart disease. Richa feels that the human body is meant to be herbivorous. "It's a scientifically proven fact that meat takes longer to digest", she says.
In addition to being good for your body, going vegetarian is good for the environment.
Richa adds that being vegetarian has never been easier, especially for people in India. "Thankfully, we come from a country where vegetarianism is so intrinsic to our culture", she says.
Join Richa and countless others in adopting a plant-based diet. Order our FREE vegetarian/vegan starter kit today!