Priya Anand Speaks Up for Caged Birds in New Ad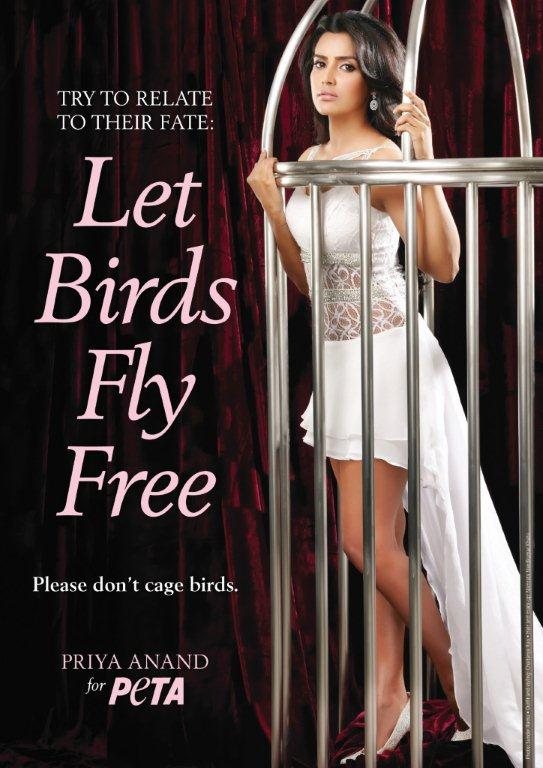 Priya Anand's career has taken flight with parts in English Vinglish, Leader, Ethir Neechal and now Fukrey. She will be soon seen in Vanakkam Chennai. Now, in a role that is sure to make her fans – as well as birds everywhere – tweet their approval, the talented actor and model has teamed up with PETA to play the part of a caged bird who longs for her freedom.
In the ad, which was shot by leading photographer Sunder Ramu, Priya wears a stunning white gown – created and styled by ace designer Chaitanya Rao – and gazes sadly out of a human-sized birdcage. Priya's point? That birds don't belong behind bars. "Birds are born to fly free, and no one should steal their freedom from them", says Priya.
In nature, birds spend their days flying, talking to their flockmates using hundreds of different calls, taking sand baths, playing hide-and-seek, dancing, building nests with their mates and nurturing their young. When they are forced to live in cages, these intelligent and active beings quickly become depressed and withdrawn. The stress and loneliness of living behind bars and being denied the opportunity to fly causes many caged birds to pull out their feathers and mutilate themselves.
Not only is caging birds cruel, it is also often illegal. The Wildlife Protection Act of 1972 and the amendment added to it in 1991 ban the capture and trade of all 1,200 varieties of indigenous birds found in India. In spite of this, 300 species of birds – including muniyas, mynas, parrots, owls, hawks, peacocks and parakeets – are openly sold in town and city markets. 
Take the Pledge
I promise to support Priya Anand in speaking up for birds by pledging never to cage them.

यहां साईनअप करके व अपना संपर्क विवरण देकर आप यह स्वीकार करते हैं कि आपने हमारी प्राइवेसी पॉलिसी को पढ़ा है वह आप उस से सहमत हैं।