Tamannaah Bhatia's a 'Bunny's Honey' in New Ad
As a leading actor, Tamannaah Bhatia has had lots of appealing co-stars, but the cutie who stars with her in her new PETA ad may be her most adorable co-star yet! In the ad, the South Indian and Bollywood film star holds a rescued bunny named Tiny and gives a thumbs-up to rabbits and two big thumbs-down to testing cosmetics on animals. The stunning ad was shot by ace photographer Colston Julian. Bhatia's make-up was done by Billy Manik, her hair was done by Anupa from Placid Hairdressing & Skin and her clothes were furnished by Esha Amin.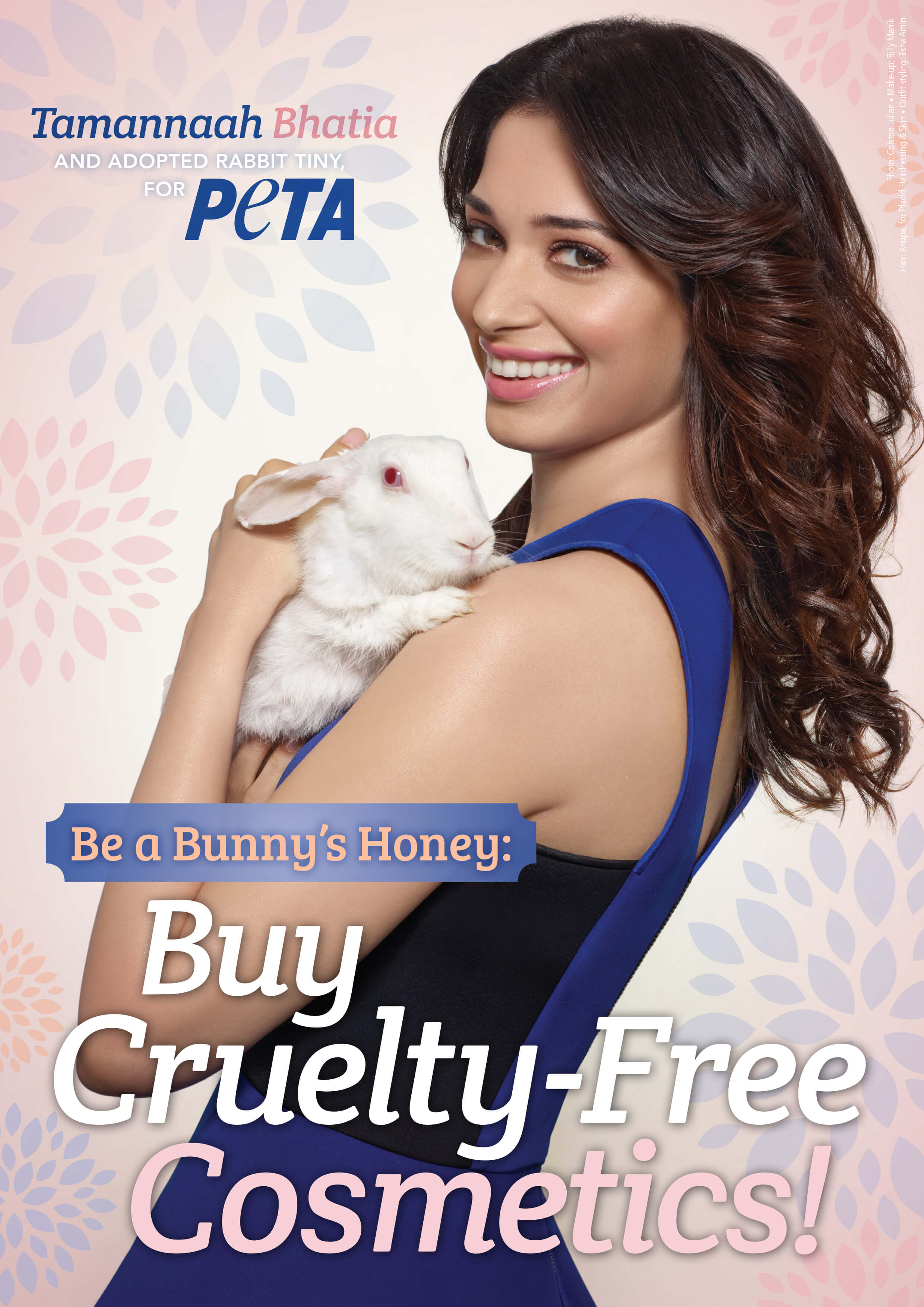 Championing bunnies who are still being blinded in the name of beauty, Tamannaah knows that harsh chemicals are dripped into rabbits' eyes, smeared onto animals' abraded skin or forced down their throats during cosmetics tests.
In an exclusive behind-the-scenes interview, Tamannaah says, "I'm very disappointed to say but animals go through a lot of torture while they are being tested on for cosmetics. … The material applied on their eyes, on their bodies. Sometimes it can be very painful – it burns them. Because they can't speak, they can't communicate what kind of atrocities are put upon the animals". See what else Tamannaah has to say:
Following efforts by PETA and others, testing cosmetics on animals is now illegal in India under The Drugs and Cosmetics Rules, 1945; however, companies can still sell their cosmetics here if the testing was done elsewhere. Both the EU and Israel have passed bans on testing cosmetics and their ingredients on animals, and both prohibit the sale of cosmetics if they or their ingredients have been tested on animals elsewhere.
PETA is calling for India to follow suit. Take action now!
Until there is a sales ban on cosmetics that have been tested on animals, please be sure to buy only cruelty-free cosmetics from PETA's approved cruelty-free companies list.