Trisha to Chennai Mayor: Don't Jail Dogs!
Once again earning her wings as an "Angel for Animals", film star Trisha Krishnan has sent an urgent letter on behalf of PETA to the mayor of Chennai, Saidai Duraisamy, urging him to scrap a proposed roundup of approximately 30,000 dogs from the streets, who would then be imprisoned in pounds.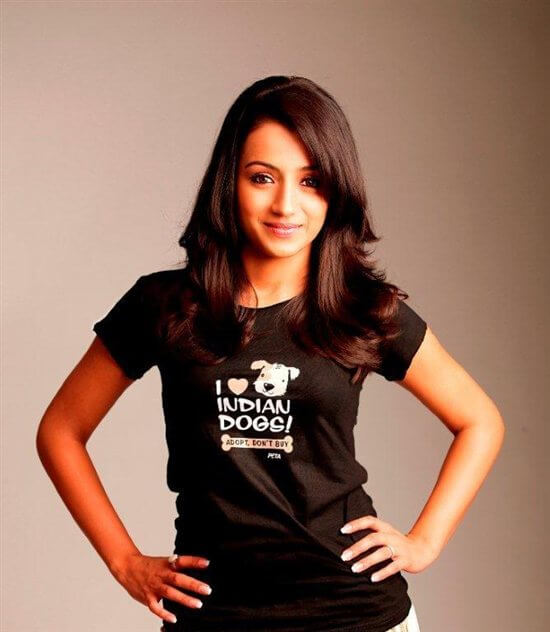 Trisha's action follows a recent petition filed jointly by PETA India, The Voice of Stray Dogs and caring citizens with the High Court of Madras demanding that it halt Mayor Duraisamy's apparently unlawful, arbitrary, unscientific and irrational plan to build 15 pounds throughout the city and fill each one with up to 2,000 dogs rounded up from the streets. The petition points out that relocating "community dogs" appears to violate The Animal Birth Control (Dogs) Rules, 2001, which mandate that dogs living on the streets be treated, sterilised, immunised and returned to the location where they were found. Earlier, PETA and representatives from other animal-protection non-governmental organisations had met with or appealed to Duraisamy to drop the plans for the "forever pounds".
The Animal Welfare Board of India, a statutory body under the Ministry of Environment and Forests, has also written to Duraisamy regarding the apparent illegality of his plan.
As Trisha explains in her letter:
Warehousing dogs, even if they are sick or old, for the rest of their lives is extremely cruel. Dogs of all ages need daily exercise, mental stimulation and the chance to investigate new scents and form social bonds with other dogs. In a pound, they can do none of these things, and many dogs in such circumstances become severely depressed and withdrawn or even lose their minds.
When Jodhpur tried this approach, the results were disastrous. … There was an outbreak of parvo and distemper, and hundreds of dogs died from these diseases as well as from fights and starvation.
Everyone can help homeless animals by pledging always to adopt and never to buy or breed dogs.