Arjun Rampal Donates #FreeSunder Billboards
Renowned Bollywood actor Arjun Rampal has donated two billboards to PETA India calling for the release of an abused 14-year-old elephant named Sunder. PETA India is seeking Sunder's rescue via a case in the High Court of Bombay.
One of the billboards has been placed in Nagpur, the site of the office of Principal Chief Conservator of Forests Sarjan Bhagat, and the other in Kolhapur, where Member of the Legislative Assembly Vinay Kore is based.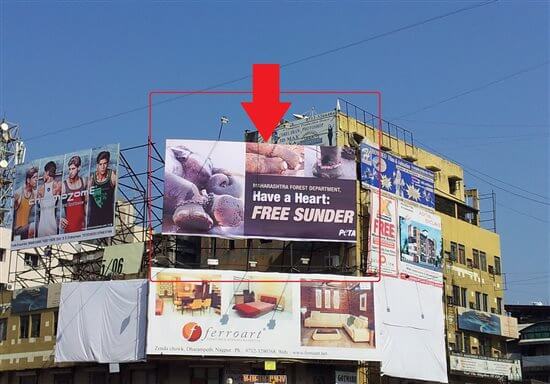 Kore donated Sunder to the Jyotiba temple in 2007, and the elephant has been kept chained and inside dark sheds for most of that time. In December 2013, PETA obtained video footage showing that Sunder's mahout violently beat him with a pole near a poultry shed where he had been moved at the behest of Kore. That same month, the High Court of Bombay ordered Sunder's transfer to a sanctuary, but he has yet to be released by Bhagat. The actor has also offered to donate a life-size statue of an elephant to the Jyotiba temple in exchange for transferring Sunder to a sanctuary as identified by PETA. He added that the statue would allow devotees to "pay tribute to Lord Ganesha and honour all elephants, including Sunder".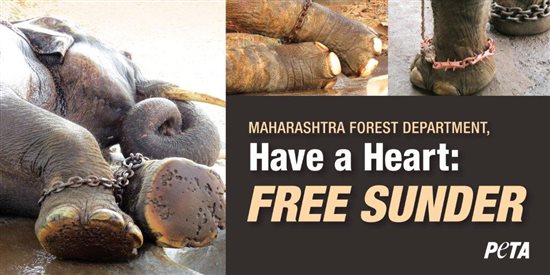 Joining Rampal in his call for Sunder's release have been Amitabh Bachchan, Madhuri Dixit, R Madhavan, Raveena Tandon and many other top celebrities as well as more than one lakh people, who have signed PETA India's online petition.
You can help #Free Sunder. Take action today.