VVS Laxman Says, 'Go Vegetarian'
Beloved batsman Vangipurapu Venkata Sai Laxman, popularly known as VVS Laxman, is famous for winning matches with the flick of his wrist. So what's the secret to this legendary cricketer's good health? Eating only vegetarian foods, which is why he's starring in PETA's latest pro-vegetarian campaign. The ad was shot by ace photographer , and Laxman's hair and make-up were done by stylist.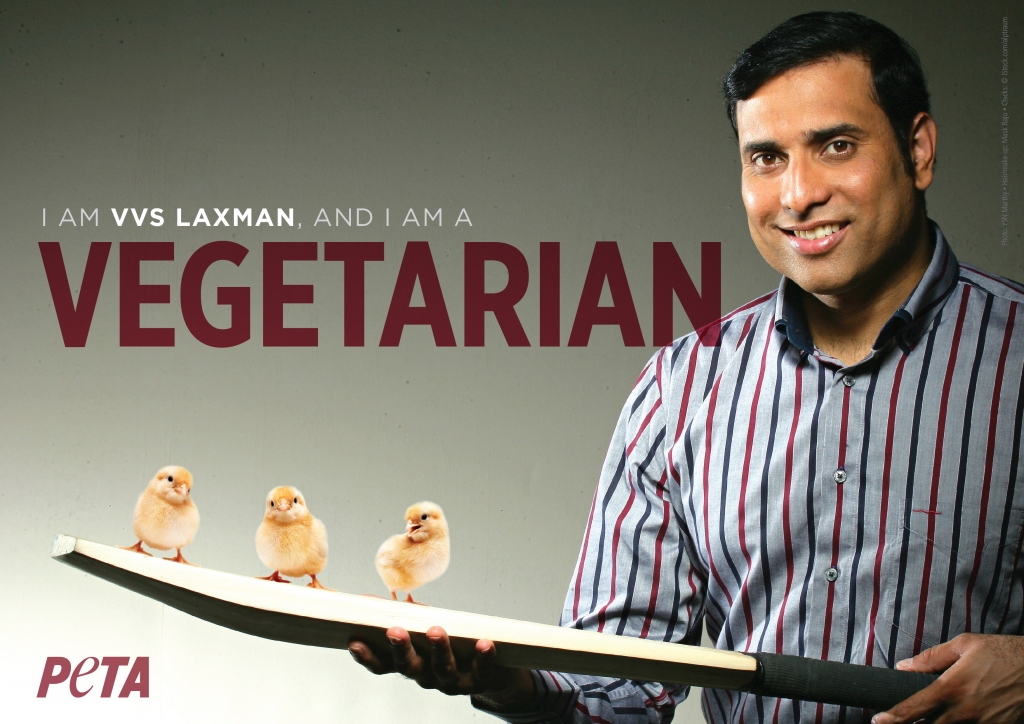 Laxman knows the value of feeling good, which is why he steers clear of all the saturated fat, toxins and cholesterol in meat. Vegetarian foods – including fruits, vegetables, legumes and grains – provide the energy, protein, vitamins and minerals that our bodies need in order to be . By sticking to meat-free foods, you can reduce your risk of suffering from serious medical problems, including diabetes, heart disease, strokes, obesity and cancer. Studies show that vegetarians are 50 per cent less likely to develop heart disease than meat-eaters and also tend to have stronger immune systems.
"I urge all my fans to [go] vegetarian. I've enjoyed vegetarian food, and I was playing active professional cricket more than 20 years", Laxman says.
Many professional athletes have turned to plant power for optimal physical performance, including Olympic gold medallist Alexey Voyevoda, Ironman triathlete Brendan Brazier and Patrik Baboumian, who was named the "Strongest Man of Germany" in 2011.
Every year, billions of animals are violently killed for their flesh. By ditching meat, you will be preventing chickens from being scalded to death and pigs from having iron rods rammed through their hearts. Eating vegetarian foods also helps the environment: meat production is responsible for a shocking 51 per cent or more of global greenhouse-gas emissions and more water pollution than all other industrial sources combined .
Give your health a boost and help animals by going vegetarian today. We'll help you get started: order your free PETA vegetarian/vegan starter kit that's packed with tips for making the transition, helpful nutrition information and scrumptious recipes.