Cricketer VVS Laxman Bats for Animals
Cricketer Vangipurapu Venkata Sai Laxman, popularly known as VVS Laxman, who has won man-of-the-match awards several times and has been honoured with Padma Shri and Arjuna awards, posed with a bat emblazoned with the slogan "Go Vegetarian" at Annapurna Studios in Jubilee Hills during a sneak peek of a shoot for PETA India's pro-vegetarian campaign on Tuesday. The campaign will be shot by famed photographer YSN Murthy.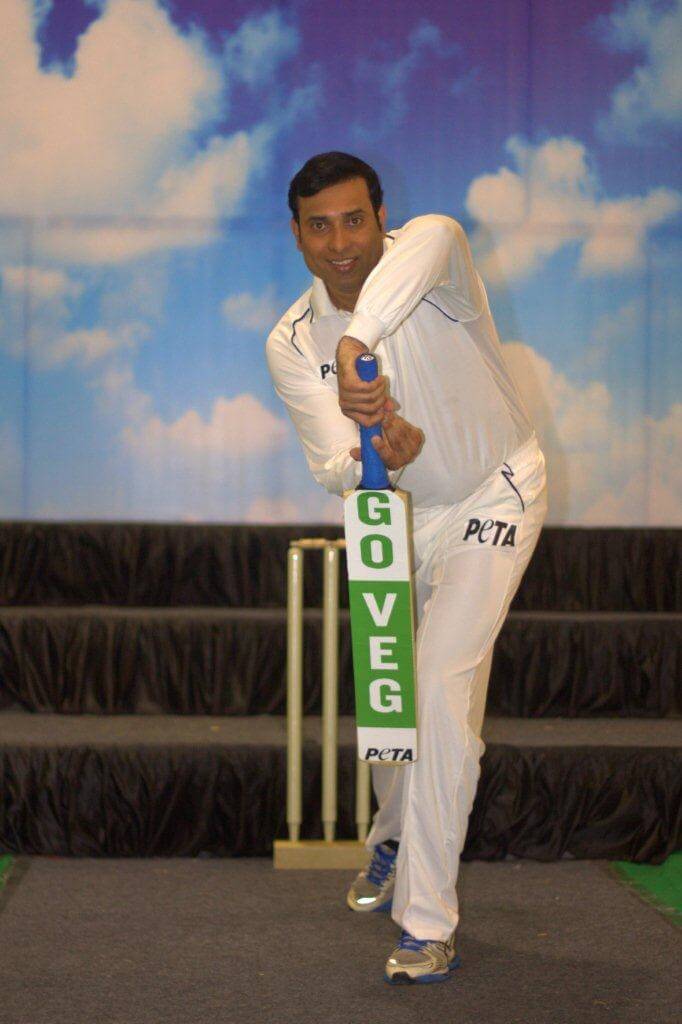 "Being vegetarian gives me energy and helps me stay sharp and strong", says Laxman. "It has many benefits, and I believe that everyone should be vegetarian for a long and healthy life."
Meat and dairy products cause human and animal suffering. The consumption of meat and other animal products has been conclusively linked to heart disease, strokes, diabetes, cancer and obesity – all of which are major health problems in India. And the meat industry is responsible for the daily suffering and terrifying deaths of billions of animals each year.
Raising animals for food is one of the largest sources of carbon dioxide and the single largest source of both methane and nitrous-oxide emissions – all of which have been linked to the negative effects of climate change. Senior United Nations Food and Agriculture Organization official Henning Steinfeld concluded that the meat industry is "one of the top two or three most significant contributors to the most serious environmental problems", including water pollution and land degradation. Also, raising animals for food uses vast quantities of water, placing a serious strain on water supplies.
Join VVS Laxman in going meat-free. ORDER your FREE Vegetarian/Vegan Starter Kit TODAY.