Priyamani Urges Fans 'Sterilise to Save Lives'
Priyamani Tells Fans 'Sterilise to Save Lives'
Known for her multi-lingual star power and unforgettable performances, actor Priyamani never misses an opportunity to help animals. That's why she and adopted dog Kiko starred in a campaign and video for PETA promoting the importance of animal birth control. Priyamani's campaign was shot by leading photographer Sam Mohan, and Tejal Rao styled the silver screen queen's hair and make-up.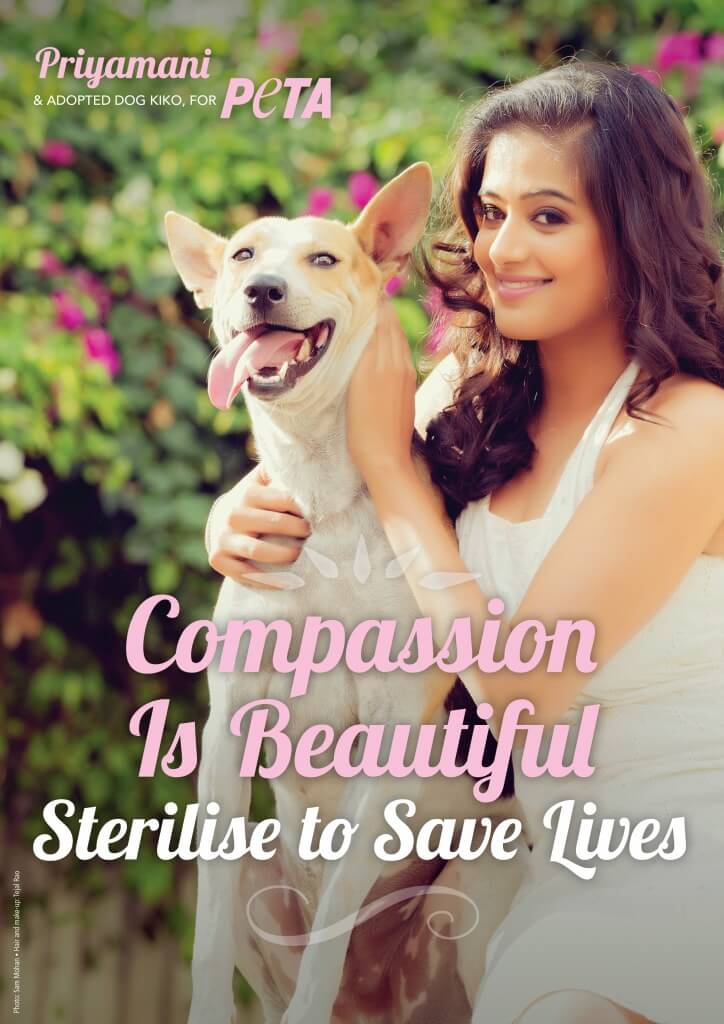 Community dogs and cats are forced to roam the streets in search of food and shelter. Because they don't have guardians, these animals easily fall victim to cruel people, are hit by careless drivers and suffer from injuries and illness, for which they don't receive medical attention. Breeders and pet shops contribute to the animal overpopulation crisis because the animals they produce take away opportunities for homes from the dogs and cats who already desperately need them.
A self-proclaimed "animal-o-holic", Priyamani understands how beneficial it is to sterilise animals. "Countless dogs and cats suffer on the streets or are waiting in animal shelters for lack of enough good homes", says the South Indian International Movie Award, Suvarna Film Award and Filmfare Award winner. "We can help ensure as many of them [as possible] get good homes by sterilising our companion dogs and cats instead of contributing to the overpopulation crisis.
Sterilised animals live longer and are less likely to contract life-threatening diseases. Sterilising eliminates the stress and discomfort that females endure during heat cycles, makes males far less likely to roam or fight and reduces the risk of developing reproductive cancer. Sterilisation is a routine, inexpensive surgery that makes a big impact, as sterilising one female dog can prevent 67,000 births in six years, and sterilising one female cat can prevent 370,000 births in seven years.
Join Priyamani and do the right thing for animals: pledge to sterilise your cats and dogs so that more animals aren't left to fend for themselves.