Thanks to each of you for your compassion and concern for Sunder.
As you may know, the Bombay High Court  issued an order for Sunder's release and rehabilitation in Bangalore before the monsoon.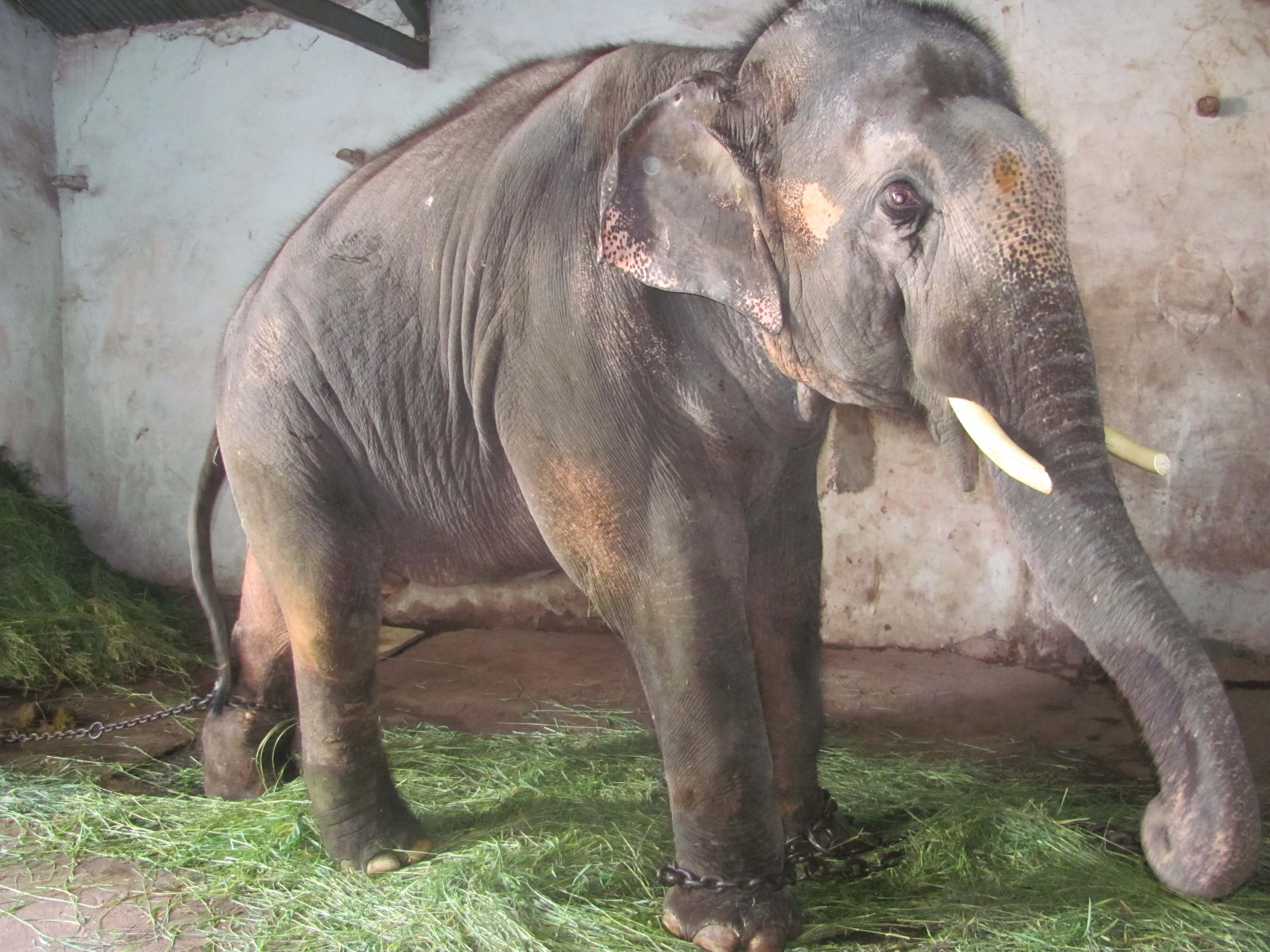 Since in India elephants are considered a responsibility of the government, the order to move Sunder is for the Maharashtra Forest Department. Only this government body has the authority, as per the court, to move Sunder.
A great deal of documentation is required to move an elephant from one state to another and to transfer ownership. PETA has been attempting to persuade the governments of Maharashtra and Karnataka to complete the transfer process quickly in order to ensure Sunder's safety.
As far as the paperwork is concerned, Sunder is nearly ready to be moved. The Maharashtra Forest Department simply needs to establish a date for the transfer. PETA has helped put all the finer details in place.
Vinay Kore, the politician who had given Sunder as a gift to the Jyotiba Temple, has filed an appeal in the Supreme Court in an attempt to stop Sunder's move. The lawyer who is addressing this matter for PETA is India's best-known and leading animal advocate, Raj Panjwani.
We, too, would like for Sunder to be moved more quickly. You have our assurance – as people who learned about Sunder's plight and who have been working night and day to rescue him – that his welfare is at the forefront of our minds. PETA will update its blog at PETAIndia.com when we have more details regarding the Maharashtra Forest Department's plan to implement the Bombay High Court order.
If you wish to help, you can write to the Maharashtra forest officials at:
The Honourable MK Rao
Chief Conservator of Forests
Office of the Chief Conservator of Forests (Territorial) Kolhapur
Van Vardhan Building
Opposite Principal Post Office
Ambedkar Chowk, Tarabai Chowk
Kolhapur 416 003
[email protected]
The Honourable Suresh A Thorat
Additional Principal Chief Conservator Forests (Wildlife West)
Borivali
LT Road
Near Old MHB Bus Stop, Forest Quarter
Borivali (W) 400 091
Mumbai
[email protected]
The Honourable Sarjan Bhagat, IFS
Principal Chief Conservator of Forests (Wildlife)
Van Bhavan
Ramgiri Road
Civil Lines
Nagpur 440 001
Maharashtra
[email protected]