Show Love for Cows This Valentine's Day
Ah, Valentine's Day! It's a day when romantic cards are exchanged secretly in college halls (swoon). It also gives you the opportunity to buy yourself a box or two of vegan chocolates (double swoon), and it's dedicated to one of the best things ever: love.
Although we know it's easy to get caught up in the lovey-dovey excitement of le jour d'amour, it's important to remember one important fact: Humans aren't the only animals with the capacity to love.
The bond between a mother cow and her calf is so strong that cows on dairy farms often wail, sometimes for days, when their babies are taken away shortly after birth so that humans can steal the milk that was meant for them. These gentle giants mourn the deaths of—and even separation from—those they love. They even shed tears over their loss. 
This Valentine's Day, remind your friends and family that all animals deserve love. Not just the human ones. Not just the cute and fluffy ones.
? All animals. ?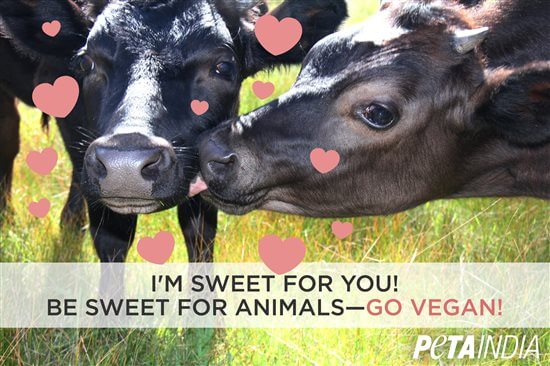 Download your "I'm Sweet for You" valentine.
Share it on your friends' Facebook walls, tweet it to them, or post it on Instagram and tag all your friends. (If you're sharing on Twitter and Instagram, be sure to use the hashtags #PETAIndia and #VeganVDay!)