Sapna Bhavnani Wants You to Cut Hair, Not Frogs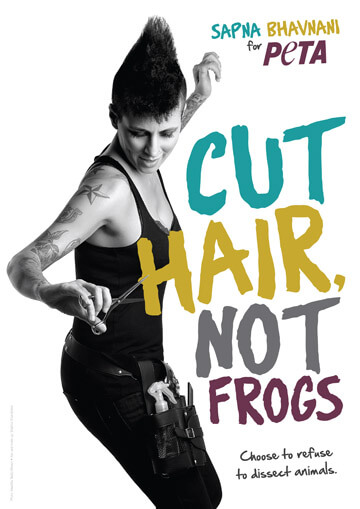 Sapna Bhavnani is famous for being a brilliant hairstylist, but did you know that she has also been an interior designer, banker, fashion designer, restaurateur and singer and has acted in movies too? Now, Sapna is displaying another talent – modelling – to encourage people to be kind to animals. She stars in a new PETA ad in which she urges students to "cut hair, not frogs". The ad was shot by photographer Anushka Nadia Menon, with hair styling and make-up by Shubhra Khandelwal.
Sapna's scissors have made Bollywood biggies like Bipasha Basu, Aishwarya Rai  Bachchan, John Abraham and Hrithik Roshan and sports stars Mahendra Singh Dhoni, Yuvraj Singh Yuvraj Singh, Gautam Gambhir and Virat Kohli look great! Now those scissors will help make people aware of the cruelty and pointlessness of animal dissection.
Watch this exclusive interview of Sapna in which she explains why the idea of dissecting animals never appealed to her.
We agree with Sapna 100 per cent. Nearly every published comparative study in science education literature has concluded that non-animal methods – including computer simulations, interactive CD-ROMs, films, charts and lifelike models – teach anatomy and complex biological processes as well as or better than animal-based lessons.
PETA India has learned that the University Grants Commission has accepted the recommendation of an expert committee to end animal dissection in university and college laboratories for zoology and life sciences courses. However, this ban has yet to be implemented officially, and students are still being asked by their professors to dissect animals.