Mallika Sherawat Joins PCRM in Promoting Vegan Living
This month, you'll likely see actor Mallika Sherawat, star of the online TV series Booo … Sabki Phategi, looking larger than life – on a billboard encouraging you to "Go Vegan for Someone You Love".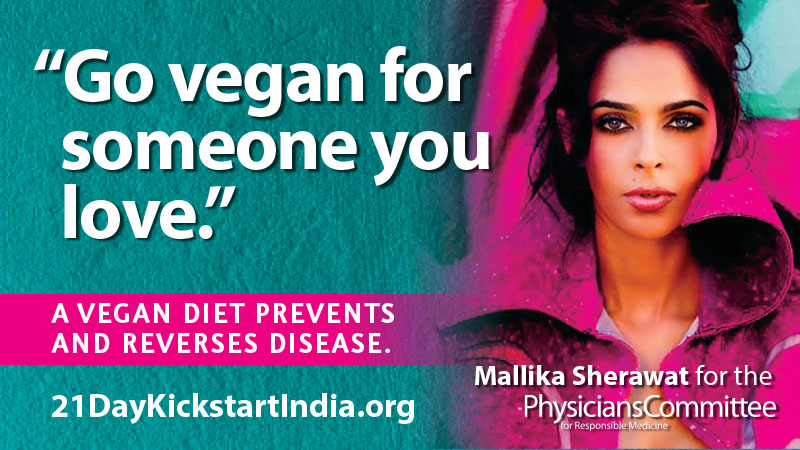 The billboard, which was designed by the Physicians Committee for Responsible Medicine – a US non-profit organisation that encourages people to eat healthy vegan food – will be displayed in Bhopal, Delhi, Hyderabad, Mumbai, and Pune this month.
Mallika also stars in a a public service announcement informing people that they can reduce their risk of suffering from serious health conditions such as heart disease and type 2 diabetes by eating vegan.
Physicians Committee Kickstart India specialist Zeeshan Ali, PhD, and James Loomis, MD, director of the Barnard Medical Center, want to help people harness the power of a plant-based diet to fight chronic disease. Dr Ali says, "I hope people across India take Mallika Sherawat's message to heart and go vegan so they can live long healthy lives with those they love."
If you want to take Mallika's advice and go vegan, please sign PETA India's pledge, and we'll help you – and your loved ones – make healthy, humane, and tasty food choices.