Who Runs the World? Vegans!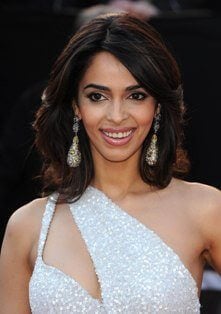 If it's starting to seem like everywhere you look, another actor, politician, business leader or athlete is going vegan that's because it's true. They cite a plethora of reasons for making the switch to a diet free of meat, dairy products and other animal products – reasons such as having more energy, protecting the environment, staying slim and preventing cruelty to animals. And with the ready availability of vegan foods in supermarkets and restaurants, it's getting harder and harder to come up with excuses not to go vegan. These are just a few of the vegan powerhouses who are leading the charge:
Mallika Sherawat:This mallika of Bollywood, has a sexy body that makes many go red with envy, but the secret to her fabulous figure is a green diet. Mallika, who is a vegan, says that the best part about it is having a "clear conscience". She was recently named "PETA's Hottest Vegetarian Celebrity" in the 2011 poll.  
Bill Clinton: The respected former president of the United States' opinion on political issues is still highly sought after, and he is celebrated for his humanitarian work. To keep his energy up, his weight down and his heart troubles at bay, Clinton relies on plant power. And he's now such a strong advocate for cruelty-free dining that PETA US named him 2010's Person of the Year.
Amala Akkineni:This actor wows on screen, partly because of her cruelty-free diet, but what wows her is compassion for animals. Posing as a mermaid in an ad for PETA India, she asked people to "relate to who's on your plate" and stop eating intelligent, sensitive fish.
Alicia Silverstone:Between acting and caring for her young son, Alicia found time to author a cookbook, The Kind Diet;maintain a lifestyle website, TheKindLife.com;and give talks to help others heal their bodies with a vegan diet. She is proof that being vegan helps busy working moms keep up their energy.
Russell Simmons: You can't manage pioneering hip-hop label Def Jam, clothing lines, a movie production house, television shows, an advertising agency and five charities if you're trying to run on junk food. In addition to all of that, Russell is an outspoken animal advocate who is always willing to help PETA help animals.
Maneka Gandhi: This Member of Parliament is always seeking justice – including for animals. Gandhi has worked to ban leather shoes in schools, keep primates from being used as laboratory "equipment" and expose animal-abusing companies.And—oh, yeah—she helps animals by not eating them too.
Tobey Maguire: Tobey knows that you can't properly fill out a Spider-Man suit if you're stuffing your face with fat and cholesterol. He's a one-man vegan recruiting machine, too, who helped Natalie Portman get on board with vegan living.
There are more influential vegans than we can count, let alone name. Ready to join them? Click here to get started