Protected-Contact Training Continues for Sunder's Caretakers
It's been two years since PETA rescued Sunder the elephant from a life of abuse and neglect at the Jyotiba Temple in Maharashtra and secured him a loving home at the Bannerghatta Biological Park (BBP) in Bangalore.
Thanks to ongoing guidance from renowned elephant expert Margaret Whittaker – including training in the protected-contact method of elephant management, which uses rewards and never punishment to persuade elephants to comply with veterinary care – mahouts, veterinarians, Sunder, and other elephants at the sanctuary have come a long way.
Recent training sessions led by Whittaker at BBP:
BBP caretakers try out the protected-contact technique.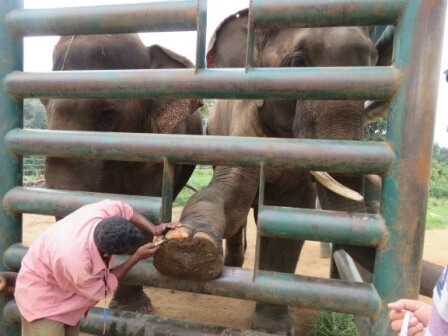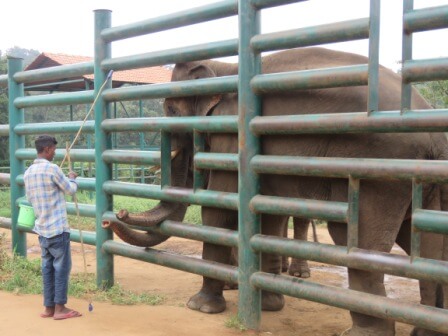 Sunder's caretakers have learned how to train him to lift his feet to receive important foot care. Menaka, another elephant at BBP, has also learned how to position his feet. BBP's new veterinarian, Dr Punit, has received special elephant behaviour training and was able to practise under Whittaker's expert supervision. Perhaps the most exciting progress is that Whittaker has started training Sunder in trunk washing, a method for collecting samples which are used to screen captive elephants for infectious respiratory diseases.
Whittaker teaches the caretakers how to incorporate enrichment activities into the corral.
To receive updates on our work, please sign up for PETA's monthly e-news.
To support PETA's work to organise this kind of important training and protect animals in other ways, please make a donation today.