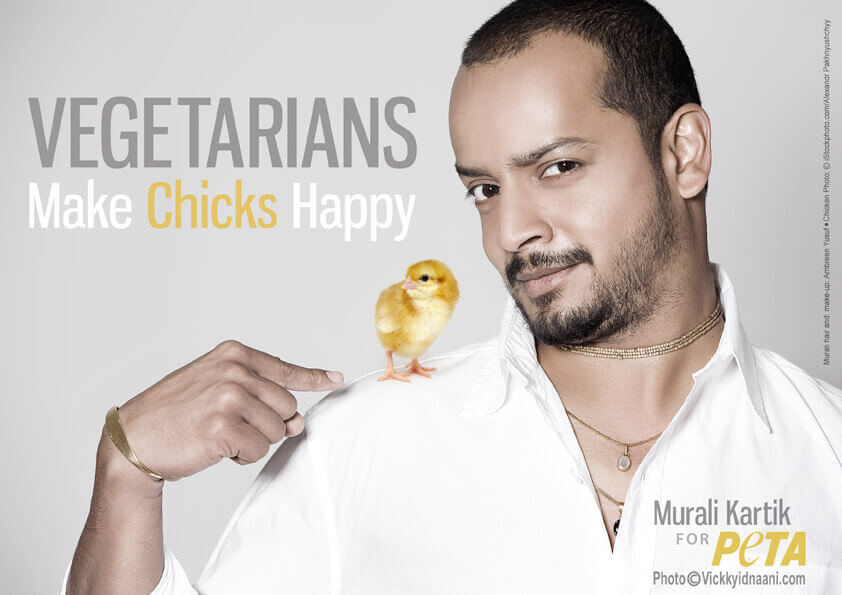 Do we have your attention? Pune Warriors champ Murali Kartik recently struck a pose with a cute chick – a baby chicken, that is – next to the caption "Vegetarians Make Chicks Happy" in a new ad for PETA. Murali wants his fans to know that the best thing they can do to protect animals, the planet and their own health is to go vegetarian.
"Being vegetarian is a winning formula for me as an athlete", says Kartik. "A vegetarian diet provides athletes with all the protein, complex carbohydrates and other nutrients we need to get stronger and faster – without the artery-clogging cholesterol and saturated fats found in meat. So I say, join the vegetarian team, and do yourself, the animals and the planet a whole lot of good."
Why is this ace athlete so passionate about not eating meat? Meat is contributing to the premature deaths of people across the country: eating meat and other animal-derived products has been conclusively linked to heart disease, diabetes, cancer and obesity.
So join Kartik and the growing list of athletes and other celebrities – including Anil Kumble, R Madhavan, Pamela Anderson, Shahid Kapoor and Sir Paul McCartney – by giving a vegetarian diet a try. PETA's free vegetarian/vegan starter kit  will help you get started.