Mumbai Wins PETA India's 2021 Most Vegan-Friendly City Award
To mark World Vegan Month (November) and as 63% of Indians are happy to replace meat with plant-based options while 75% are unable to digest milk properly, PETA India has named Mumbai the winner of its 2021 Most Vegan-Friendly City Award. We presented a framed certificate to Mayor Smt Kishori Kishor Pednekar.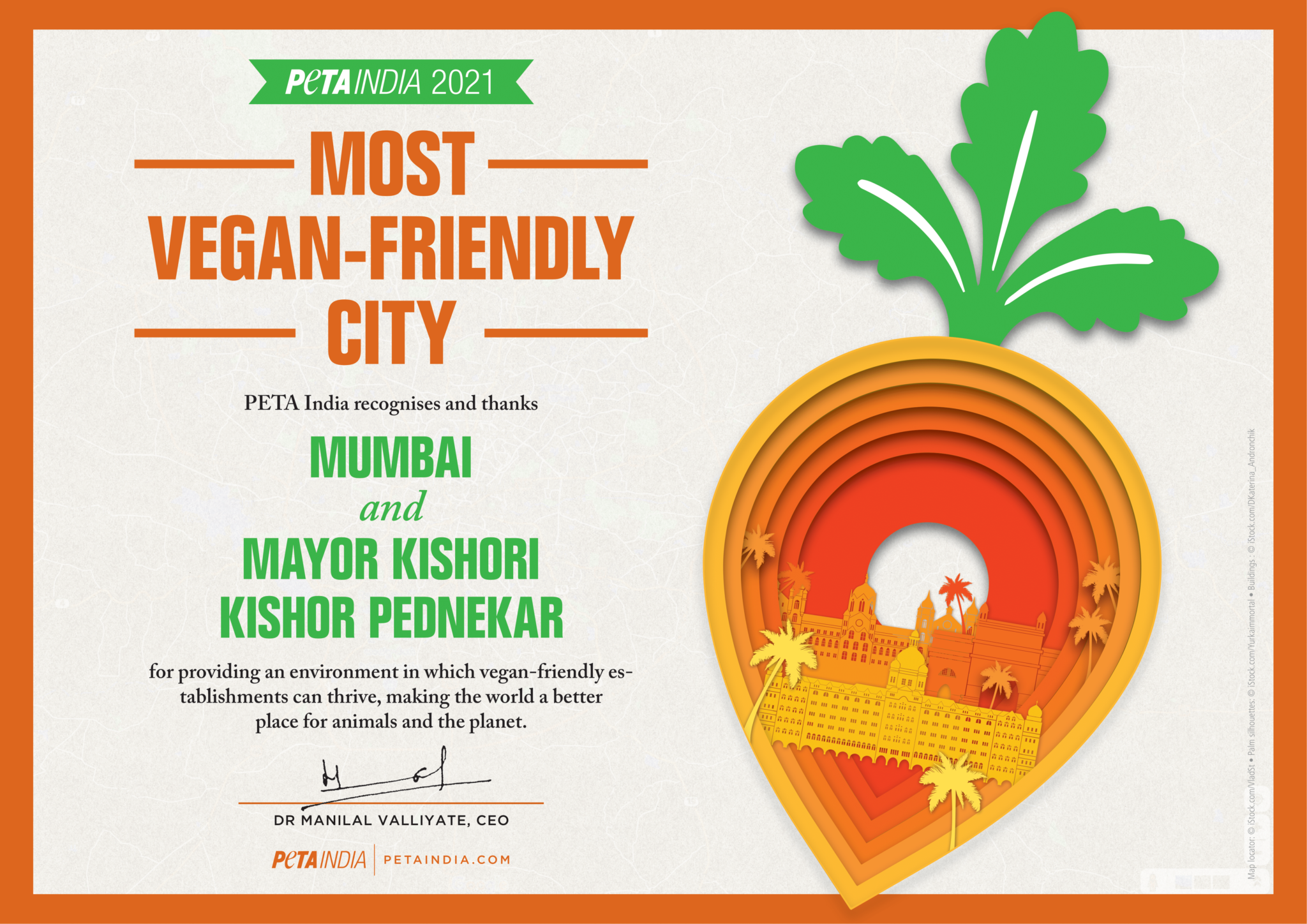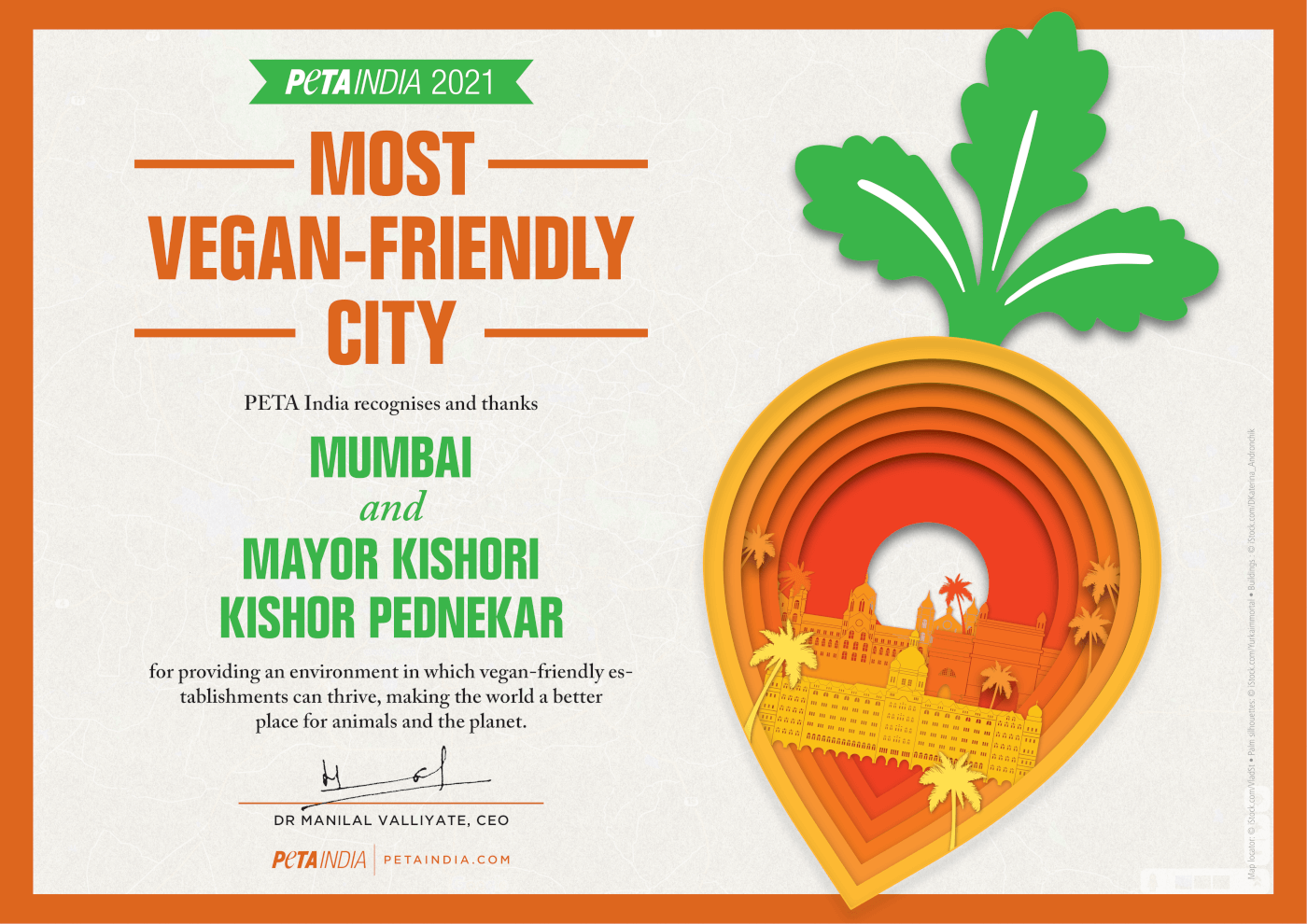 The city boasts vegan grocers Rare Earth and Greend plus an abundance of vegan eateries – including Imagine Cafe, Earthlings' Cafe, Earth Cafe, Yogisattva, Vegan Burger Kitchen, GoodDO, Rare Earth – The Vegan Cafe, and Ubuntu Eat – which offer pizza, burgers, and more. Those looking for decadent, cruelty-free sweet treats can head to An Ode to Gaia and The Cinnamon Kitchen. And the scene doesn't stop with food – Mumbai-based vegan fashion and cosmetics brands, including Zouk, PAIO, CAI, Baggit, Plum, and I Am Animal, are winning the hearts of compassionate consumers, while popular pro-vegan events such as The Ahimsa Festival as well as the potlucks arranged by the city's robust vegan groups are thriving.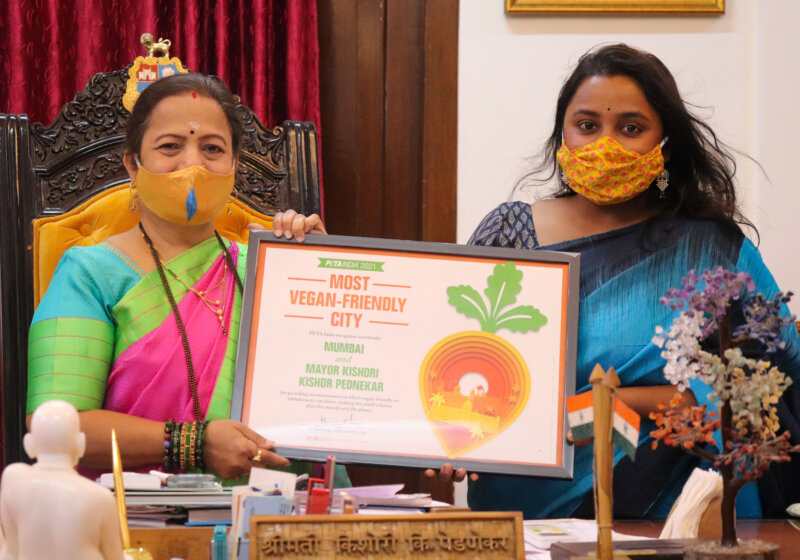 The city is also home to India's fourth largest meat-free population and is famous for its delicious street foods, such as vada pav, misal pav, sev puri, kothimbir vadi, and ragda pattice – vegan versions of which are widely available.
The consumption of meat, eggs, and dairy is responsible for animal suffering on a massive scale. Fish are suffocated or cut open while they're still alive on the decks of fishing boats, chickens used for eggs are confined to cages so small they cannot spread a wing, and calves are torn away from their mothers shortly after birth so that humans can steal the milk meant for them.
In addition to sparing animals' lives, eating vegan reduces the risk of suffering from certain types of cancer, heart disease, diabetes, and obesity; helps fight climate change by reducing greenhouse-gas emissions; and even helps prevent future pandemics. COVID-19 is largely believed by experts to have stemmed from a live-animal meat market, and SARS, swine flu, and bird flu have also been linked to confining and killing animals for food.