Jacqueline Fernandez in Sexy Ad to Help Horses
From burning-up the dance floor in Housefull to steaming up the screen as the seductive lead in the Bollywood thriller Murder 2, Sri Lanka actor and model Jacqueline Fernandez always makes a bold and sexy statement. Just take a look at her sizzling new bikini-clad PETA ad shot by ace photographer Anushka Menon! Striking a provocative pose to draw attention to horses suffering on the streets of Mumbai and other parts of India, the Bollywood bombshell is urging everyone to boycott horse-drawn carriages.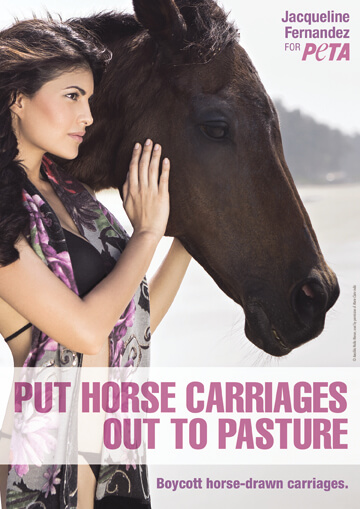 The ad is being released in the wake of an incident in which a horse collapsed after being forced to pull a carriage of eight people near the Gateway of India – an all-too-common occurrence among horses who are used for "joy rides". Its release also follows the Mumbai High Court's landmark decision to crackdown on unlicensed stables housing horses used to pull carriages. PETA India is calling on Mumbai and cities across India to ban horse-drawn carriages outright.
Why is the former Miss Sri Lanka Universe so passionate about putting horse carriages out to pasture? These so-called "joy rides" are joyless for the horses. PETA investigators have documented how carriage horses are forced to stand for hours, given no protection from the scorching sun or driving rain and beaten and whipped in order to force them to work beyond the point of exhaustion. Denied veterinary care if they are injured or sick, horses are malnourished and are fed unhealthy food and given dirty drinking water – if they receive any food and water at all. Stables are often damp, filthy, filled with accumulated faeces and urine and infested with flies and other biting insects.
Forced to pull heavy carriages on busy city streets, accidents often occur. Over the years, both horses and humans have been seriously injured and killed. In Mumbai, vehicles have collided with horse carts, and a horse recently also collapsed near CST station. In the wake of this tragic incident, Jacqueline had sent a letter to the Municipal Commissioner of Mumbai urging him to ban horse-drawn carriage rides.
"I have observed so many … heartbreaking incidents, and I can't be a silent spectator to this abuse anymore", wrote the award-winning actor.
Be bold like Jacqueline. Take the star's stellar advice and boycott horse-drawn carriage rides. Make a commitment never to take joy rides on horses, and ask your friends and family to follow your example.
Please click here to send an email to urge the Municipal Corporation of Greater Mumbai to put an immediate ban on horse-drawn carriages in the city of Mumbai.