Green Group Salutes PETA India Chief
Our chief functionary, Poorva Joshipura, added another faux feather to her cap in advance of the 100th anniversary of International Women's Day. For her work for animals, she was honoured with a Women Achievers Award, which was presented by the Young Environmentalists Programme Trust. Poorva joins 24 other outstanding women from different fields across India in receiving an award this year. Each of the women was recognised for making a positive difference in their communities.
You would not have to look at Poorva's record of accomplishments for long to understand why the Young Environmentalists Programme Trust singled her out. After all, we are talking about a woman who has conducted undercover investigations in nightmarish places where animals are exploited and killed for food and leather, interrupted a fashion show in New York to protest the use of animal fur and successfully stopped a US-based laboratory animal supplier from expanding its business to Europe. These are just a few of her achievements, which are too numerous to list here. Furthermore, Poorva not only volunteers as the head of PETA India but also serves as the vice president of international operations for the PETA Foundation, our affiliate in the UK.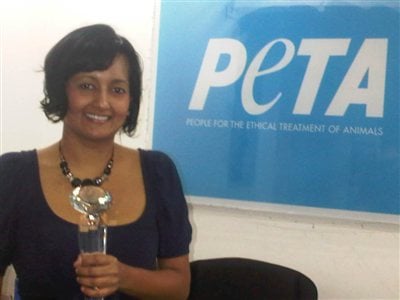 Inspired? Every single one of us can make animals' lives brighter – learn how you, too, can become a superstar for animals here.