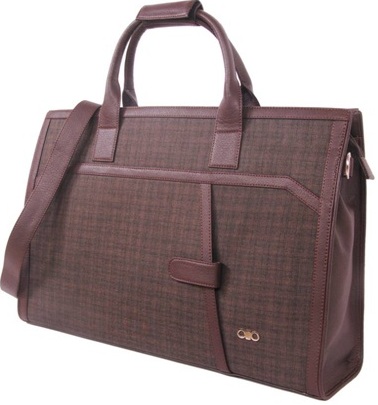 It's Father's Day! Been too busy to get your dad a gift? Forgot? Don't fret, there's still time! Show him some love by presenting him with one of the following cruelty-free presents:
1)    A Fabulous Vegan Father's Day Feast: Wow your dad with your culinary skills by whipping up a special meatless meal for him on his special day. Nothing says "I care" like treating his taste buds to a humane and heart-healthy homemade dinner!
2)    Fatherly Fragrances: The best thing about giving your dad a cruelty-free fragrance from The Body Shop is the good karma that comes from buying a product that wasn't tested on animals.
3)    Leather-Free Loot: Leather goods are bad, so treat your dad to something better, like a classy non-leather bag from V Designs (featured in photograph) or a stylish skin-free wallet from Baggit. Stylish leather-free shoes, wallets and belts are also available from vegan companies like Compassion Avenue, Senso Vegetarian and Aurum Co.
4)    A 'Snappy' New Camera: For a picture-perfect Father's Day, surprise your dad with a Nikon or Sony camera.
5)    A Back Massager: Sometimes dads need to be "kneaded" (especially after a long hectic workday). Pay him back for all his years of hard work by helping him take care of his back with a back seat massager or a full back Shiatsu massager. And don't forget – animals need you to have their backs too!
6)    Game Tickets: Whether he's crazy about cricket or mad about music, your dad will be your biggest fan if you take him to a match or a concert. Plus, it's a great way to score some quality time with him!
Fathers of the animal kingdom are not that different from our own beloved dads. This Father's Day, when you honour your dad, honour animal dads, too, by practicing kindness and compassion toward all animals.
Happy Father's Day!