Vegan Father's Day Breakfast to Win Your Dad's Heart
Father's Day is Sunday, so we thought we'd pass along some tasty recipes so you can treat your dad by making him a scrumptious vegan breakfast!
Animal dads on factory farms are denied all the joys of fatherhood and are never allowed even to set eyes on their children. So if you love spending time with your papa, it makes sense to let him know it by preparing food that no other fathers had to suffer for. And whether he is already a dedicated follower of a cruelty-free diet or is just waiting to be convinced, these winning recipes will show you care about your dad – and animals – and ensure that his special day gets off to a great start.
PETA's Vegan Pancakes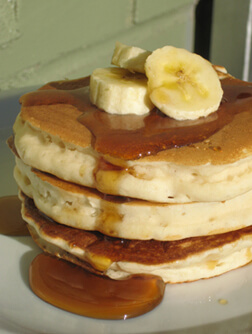 1 cup all-purpose flour
1 Tbsp sugar
2 Tbsp baking powder
Pinch salt
1 cup soya milk
2 Tbsp vegetable oil
Combine the flour, sugar, baking powder and salt in a bowl and mix thoroughly. Mix in the soya milk and oil, and with an electric mixer or wire whisk, beat just until the batter is smooth.
Measure 1/2 cup batter onto a hot, oiled pan. When bubbles appear on the surface of the pancake (in about 2 minutes), lift with a spatula and flip. Cook for another 2 minutes. Remove from the pan and keep warm while you make the remaining pancakes.
Serve warm with golden syrup, fresh fruit, jam or any other tasty topping that takes your fancy!
Makes 5 pancakes
Tofu Scramble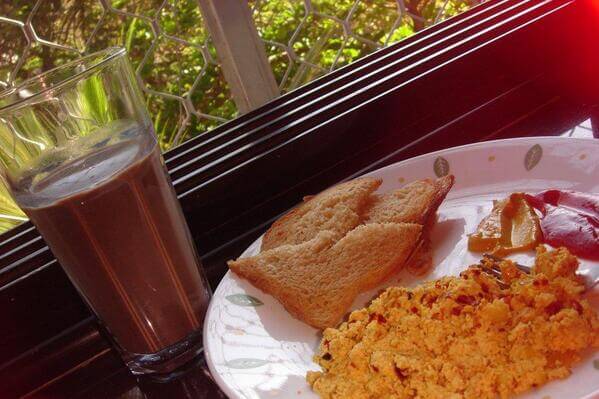 1/2 onion, finely chopped
1/2 tomato, chopped
2 Tbsp vegetable oil
100 g firm tofu, drained and crumbled
1/2 tsp turmeric
1/2 tsp salt
1 tsp freshly chopped coriander
Sauté the onion and tomato in the vegetable oil on medium heat for about 2 minutes.
Add the crumbled tofu, turmeric and salt and stir well. Garnish with the coriander.
Note: serve with toast on the side and a cup of coffee with soya milk.
Makes 1 serving
French Toast
1/2 cup soya milk
3 Tbsp unbleached flour
1/4 tsp cinnamon
1 tsp vanilla extract
4 slices whole-wheat or white bread
Whisk together the soya milk, flour, cinnamon and vanilla extract.
Dip the bread in the batter, turning to coat both sides, then cook until golden brown in a non-stick skillet.
Serve with fresh fruit, fruit preserves or maple syrup.
Makes 2 servings
PS: Mums and other family members have been known to enjoy these yummy recipes, too! If any of your relatives are curious about a plant-based diet, why not order them a FREE vegetarian/vegan starter kit and let them experience all the perks of going cruelty-free for themselves?