Free Christmas Desserts Class With Cinnamon Kitchen's CEO!
Whether you're getting together with a small group of friends this Christmas or just staying home and celebrating with your family, one thing that 2020 hasn't changed is everyone's love of a delicious dessert. And of course, it wouldn't fit the season of hope, goodwill, and charity for our celebrations to cause animals to suffer. So PETA India and Cinnamon Kitchen chef and CEO Priyasha Saluja will show everyone how to whip up some to-die-for Christmas desserts that no one had to die for. We're holding our vegan cooking extravaganza live on Instagram so you can make a perfect treat for your loved ones right along with us.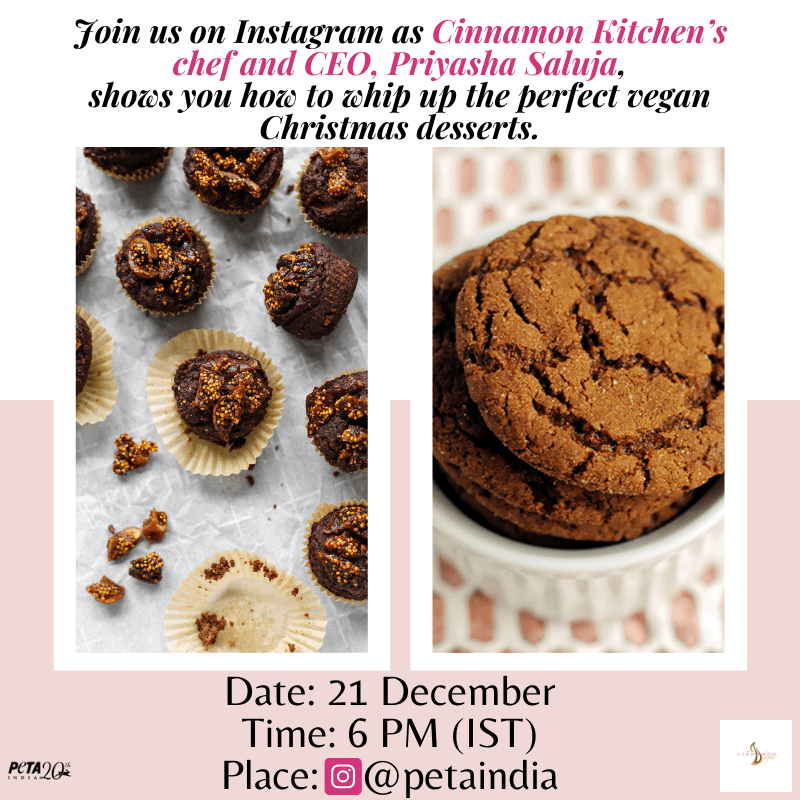 Priyasha founded her successful all-vegan bakery Cinnamon Kitchen after struggling with health issues and discovering how to heal her body with clean food. What began as just an Instagram page to document her journey of healthy eating quickly grew to two full-service bakeries in Delhi and Mumbai. Priyasha is known for baked goods and desserts that are almost too beautiful to eat (but you'll definitely want to eat them anyway).
She'll show you how to make spiced fig cupcakes and soft ginger cookies. Put them in a basket and tie on a festive bow and you'll have a sweet, homemade last-minute gift that no one will want to return.
The cooking segment will stream live on PETA India's Instagram from Cinnamon Kitchen on 21 December at 6 pm IST. We'll see you there!