A Christmas Dinner for Chickens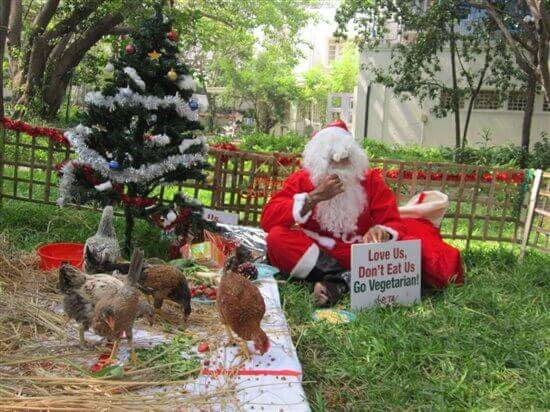 PETA India just took the phrase "hen party" way too literally. All of us will agree that having the corpse of a dead bird lying on a plate for Christmas dinner is no fun, particularly not for the birds.
So this Christmas, some PETA members decided to have a different kind of chicken dinner, one at which the birds were the guests of honour. PETA members in Chennai recently rescued five  hens from slaughter, and while the animals recovered from their ordeal, their rescuers decided to give them a party before they are sent to be cared for by People for Animals Chennai. The hens enjoyed an early Christmas dinner of sweet corn, delicious seeds and other foods that they love – all at a table beautifully decorated for Christmas.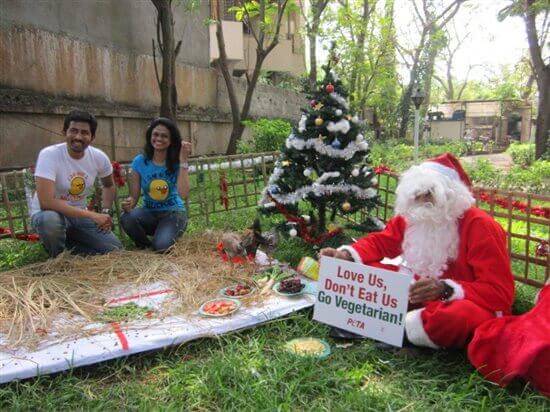 And guess who turned up at the party? Vegetarian playback singer and RJ Suchitra Karthik Kumar and her actor husband, Karthik Kumar.
You can make your Christmas merry for animals, too, by making a New Year's resolution to save their lives. Take the pledge to go vegan today. Thank you for thinking about animals, and may Santa fulfil all your wishes.
Merry Christmas and happy New Year!
PS Have you shared our ultra-cute "Meowy Catmas" card with all your friends? If not, what better time than now?