Calcutta High Court allows PETA India and CAPE Foundation to provide suffering horses with necessary care
A division bench of the Calcutta High Court headed by Chief Justice Prakash Shrivastava allowed petitioners PETA India and CAPE Foundation to work with the state government to provide the suffering horses used for rides and to haul tourist carriages in the city with essential veterinary services and necessary food to improve their well-being after hearing about the appalling conditions uncovered by the two organisations. The court also gave the West Bengal government an additional four weeks to place on record a policy for addressing the miserable conditions of horses used for carriage and other rides near Victoria Memorial.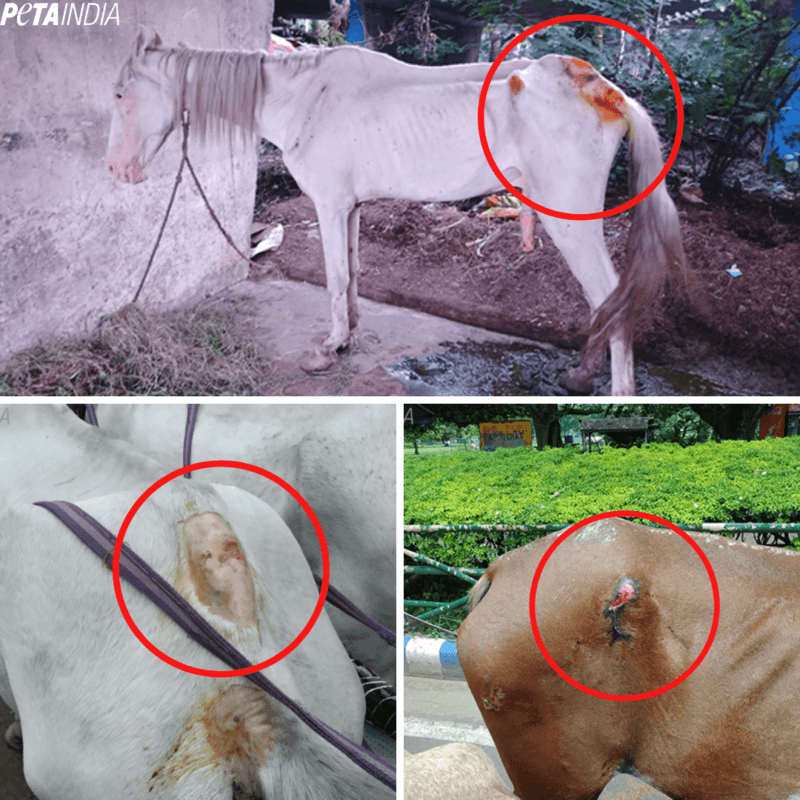 PETA India also filed an explosive new assessment report on the miserable conditions of horses used for tourist and carriage rides in Kolkata, and the court put it on record. The assessment report describes the dire conditions of horses between November 2021 and March 2022. The new report establishes that since the first assessment last year, cruel practices such as forcing emaciated and injured horses to work continue and that the most severe injuries to horses are caused by being hit by cars and other vehicles, which often leads to slow, painful death. The latest report points out that the horses are denied proper farriery and veterinary services. The animals' faeces strewn around the city also creates a tetanus risk and other health hazards for humans.
As directed by the court on 18 January 2022, PETA India has submitted its recommendations to the West Bengal government, requesting that the use of horses for tourist and carriage rides in Kolkata be prohibited, the horses be rehabilitated, and horse owners and carriage drivers be provided with an alternative livelihood through the use of e-carriages or other means, such as taxis and commercial goods vehicles, as has already happened in Mumbai.
Using injured and malnourished horses for carriage rides violates The Prevention of Cruelty to Animals Act, 1960. Following complaints by PETA India, three first information reports have recently been registered against horse owners. What's more, the lack of a system for the collection and disposal of horse faeces is in apparent contempt of the Calcutta High Court. Through an order dated 22 January 2013, the court had directed that "measures be taken by the owners of each hackney carriage for removing dung excreted by the horses".