Bollywood Celebrates Cosmetic Testing Campaign Progress
Bollywood actors Dia Mirza, Neha Dhupia, Sonu Sood, Jacqueline Fernandez, Trisha Krishnan, Madhavan, Priya Anand, Amrita Rao and Ashmit Patel took to Twitter and shared how happy they are about the outcome of an intense campaign by PETA India and work by MP Maneka Gandhi, which resulted in the Drug Controller General of India (DCGI) Dr GN Singh announcing that testing cosmetics and their ingredients on animals will never be permitted in India again. As a result, a decision was made to remove the last remaining animal test from IS 4011:1997 Methods of test for safety evaluation of cosmetics.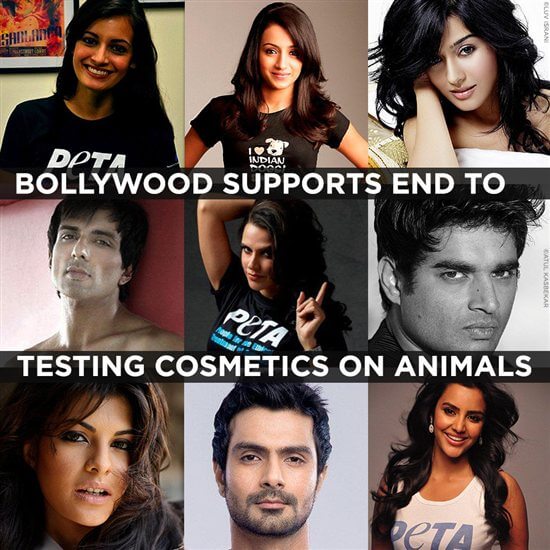 Photo Credits: Amrita Rao – ©Luv Israni
R. Madhavan – ©Atul Kasbekar
 "I am so thrilled to hear that PETA's efforts to stop cruel animal tests paid off and am immensely grateful to the country's drug controller general for announcing an end to cosmetic testing on animals", says Dia Mirza. "Body Shop is against animal testing and as their ambassador, I was also glad to hear from PETA that they too helped make this happen."
An excited Neha Dhupia says, "Kudos to DCGI and PETA! Testing cosmetics on animals is cruel and archaic and I am glad India's doing away with it".
"There is just no need to test lipsticks and shampoos on animals as there are modern, non-animal methods available", says long-time PETA supporter Jacqueline Fernandez. "I am so proud to be a supporter of PETA and thank them and DCGI for making the world a kinder place for animals."
Trisha Krishnan, who has been part of many campaigns led by PETA, says, "My association with PETA goes a long way and I am happy to be a part of this celebration. I never understood the logic behind testing mascara, soap or shampoo on animals. I'm so happy it has come to an end in India!"
In 2012, the cast and crew of Farah Khan's Joker, directed by Shirish Kunder and starring Akshay Kumar, Sonakshi Sinha and Chitrangda Singh, joined PETA in urging the government to ban cosmetics testing on animals. Chitrangda posed on behalf of PETA and Joker with the aliens from the film for the campaign. The ad was shot by ace photographer Atul Kasbekar.
The landmark announcement was made during the meeting of the Bureau of Indian Standards PCD 19 Cosmetics Sectional Committee, on which PETA India's science policy adviser, Dr Chaitanya Koduri, has an official seat. Earlier, Dr Koduri had held a private meeting with Dr Singh to stop the testing of cosmetics on animals.
Unfortunately, cosmetics which have been tested on animals can still be sold in India. Please always consult our guide of companies that do and do not test on animals before shopping.