Ashwini Ponnappa Champions Animal Adoption
In 2010, Ashwini Ponnappa rose to fame when she won the gold medal for women's badminton doubles in the Commonwealth Games. With the 2014 Commonwealth Games now underway, it's not just defending her title that she is focused on – she's also a fierce defender of animal rights. Check out her charming new ad for PETA, shot by top photographer Sam Mohan with hair and make-up by Ralph Daniels: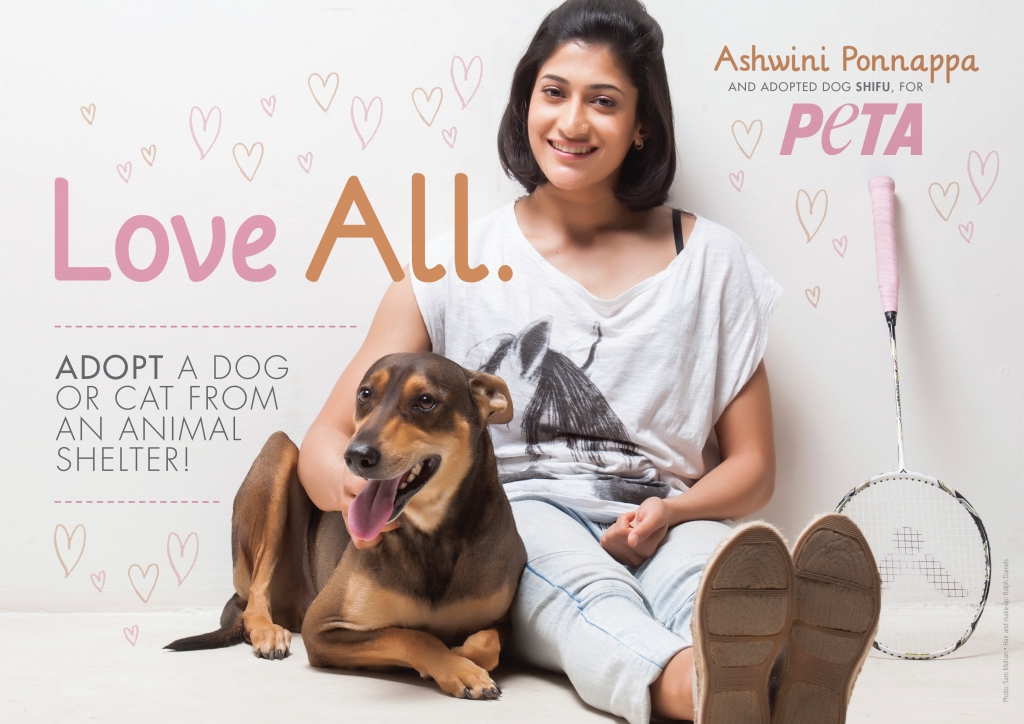 From protesting circus cruelty to posting selfies with adorable dogs on her Facebook page, Ashwini is a champion for animals. She even wanted to be a veterinarian before she became a badminton superstar. When she's not busy speaking out for animals, she spends time with her family's many adopted dogs and cats. "None of us are bothered about the fact that a dog is not a [purebred] or we don't have a cat that is a specific breed", she says. "They are just dogs and they are just cats who need love."
The fleet-footed shuttler knows that India's streets are full of animals who need loving homes. As dogs and cats roam the streets looking for food and shelter, they fall victim to other animals, cruel people, careless drivers who hit them and deadly diseases. Shelters are packed with animals and are unable to meet the constant demand for more space.
Breeders and pet shops worsen the companion animal overpopulation crisis and the animals they produce steal homes away from animals who need them. Adopting a dog or cat from the streets or a shelter means gaining a forever-grateful best friend who finally has the chance to give and receive affection. Plus, Indian "community dogs" tend to have fewer health and behavioural problems than their purebred cousins do when cared for in a loving home. "Instead of buying a dog, please go and adopt stray dogs and cats who need a home", Ashwini says. "Help them out, and help you out because you'll have a companion at home."
Be a champion for animals like Ashwini is and pledge to adopt – never buy or breed your animal companions.