Trisha Krishnan Stars in PETA's Homeless Dog Adoption Ad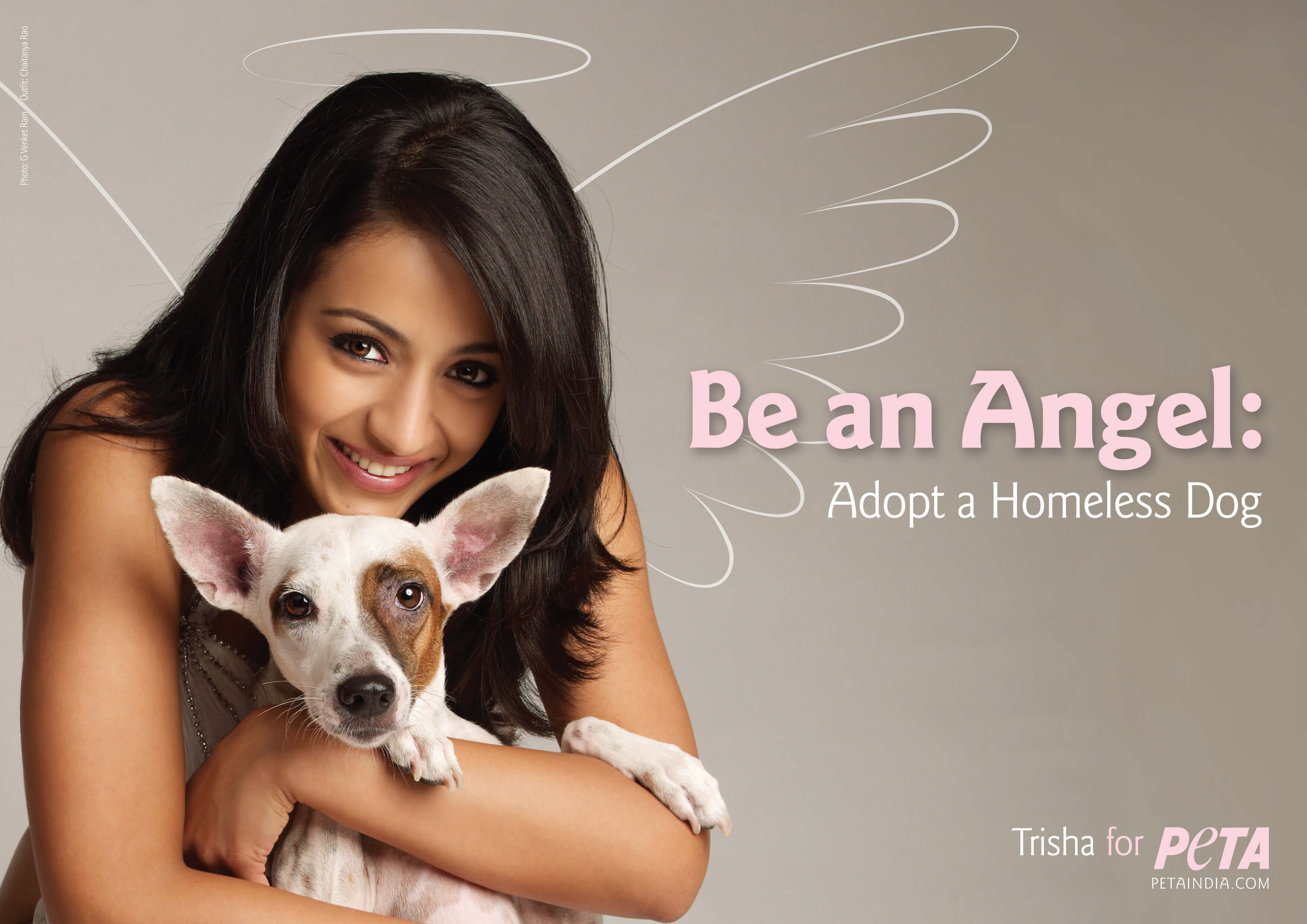 Popular film star Trisha Krishnan has appeared opposite some very cute co-stars, such as scorching-hot Khatta Meetha actor Akshay Kumar and the always adorable Prabhas, who played her romantic interest in Varsham. Although these guys are undeniably attractive, we think that her newest co-star is the cutest yet!
The alluring actor posed alongside a cuddly canine friend for a PETA India ad encouraging people to take pride in our country by adopting a homeless Indian community dog. Trisha's ad for PETA was launched as a cover story in Galatta's June 2011 issue. In reality, Trisha is the proud guardian of a rescued community dog named Cadbury.
"I encourage everyone to adopt an animal off the street or from a shelter", Trisha says. "Indian dogs are bright, brave and beautiful, and they need our love and respect. If every family were to take in an Indian dog, there would soon be none left to suffer on the street." The ad was shot by ace photographer G Venket Ram.
Trisha knows what she's taking about. There is a severe dog and cat overpopulation crisis in India. Millions of homeless dogs and cats are left to languish in animal shelters or on the streets because of a lack of good homes. Breeders and pet shops that sell animals for profit – and individuals who let their dogs or cats have "just one litter" – contribute to this problem. Every time someone buys a puppy or kitten from a breeder or pet shop, it means one fewer home for a desperate animal in a shelter or roaming the streets.
Indian community dogs are loving, loyal, resilient, robust and well suited to the local climate. When you adopt a dog, not only will you save a life, you'll also make a friend for life. So take Trisha's advice by pledging to adopt!
Pledge to Adopt Animal Companions
I promise to do my part to end the tragic cycle of animal homelessness by never buying a dog from a breeder or pet shop. Instead, I will save a life by opting to adopt a homeless dog from the streets or an animal shelter and by always having my animal companions spayed or neutered.
यहां साईनअप करके व अपना संपर्क विवरण देकर आप यह स्वीकार करते हैं कि आपने हमारी प्राइवेसी पॉलिसी को पढ़ा है वह आप उस से सहमत हैं।