We Have a Winner in the Gibson Guitar Contest!
Beating out more than 5,000 other young people, 19-year-old Dhruv Balwada – a third-year chemical engineering student at BITS-Pilani, Goa – will received a brand-new Gibson guitar from PETA Youth.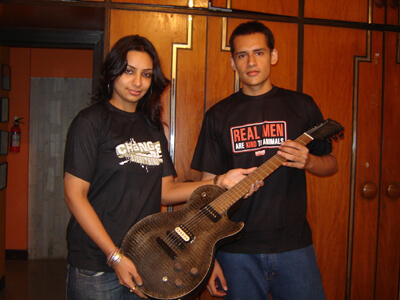 "Winning this guitar was unbelievable", says Dhruv "Considering the fact that I have never won anything like this in my life, this feels awesome! I would just like to say that if you think about animals, God will think about you. "It's very rewarding to see youngsters like Dhruv getting active for animals and speaking up for them", says PETA Youth's Simran Kodesia. "Young people across India are taking heed of our message that animals do have rights and deserve respect and protection."Bummed you didn't win the Gibson guitar? How about a signing up to win an autographed CD from Strings? And don't forget to check out the exclusive PETA Youth version of their new video, featuring the super hot John Abraham.