VICTORY: Animals Rescued From Grand Circus
Following an inspection of Grand Circus, which was initiated by PETA India and conducted by Animal Welfare Board of India (AWBI)–authorised inspectors from Animal Rahat (an animal-protection organisation focused on veterinary intervention) and from PAWS Thrissur, on 1 and 2 May, circus management agreed to relinquish 18 animals to the AWBI immediately for rehabilitation and to become an animal-free, human-only circus.
Seven horses and 10 dogs from Grand Circus have been moved to People for Animals Thiruvananthapuram. A female camel will be moved to the sanctuary run by Animal Rahat in Sangli, Maharashtra, where she will meet her new companion, Waheed, a rescued male camel.
PETA India are funding the animals' treatment, care and maintenance. The Federation of Indian Animal Protection Organisations also supported the rescue effort. Grand Circus is currently camped in Thrissur, Kerala but travels around India.
Among other abuse, the inspection of Grand Circus revealed the following cruelty:
Dogs housed in cramped, filthy cages.
A camel who is suffering from mange but is forced to perform
3. Lame, partially blind and wounded horses
YOU can help stop circus cruelty.
Please add your voice to PETA's by asking Indian government officials to ban animals from being exhibited or forced to perform in circuses: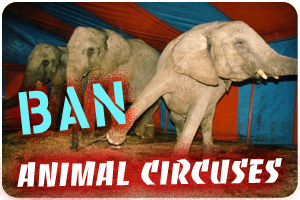 Take ACTION today!