Liza Malik Explains How to Fix Cricket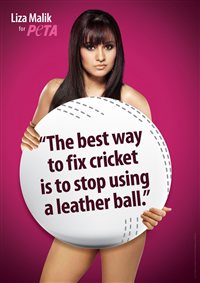 Item girl Liza Malik has finally agreed to help fix cricket! Liza has appeared in a brand-new ad for PETA India. The ad – which reads, "The Best Way to Fix Cricket Is to Stop Using a Leather Ball" – is a reference to the recent controversy surrounding a UK bookie who offered Malik money to use her alleged familiarity with several cricket players to help him fix Indian Premier League (IPL) cricket matches. Malik wanted no part of the scheme, but she eagerly volunteered to pose for PETA's ad calling for the use of high-performance synthetic cricket balls that don't cost a cow an arm and a leg. The new ad was shot by ace photographer Rohan Gandotra. "Although millions of fans across the globe are currently enjoying the IPL, cricket is anything but fun for the animals whose skins are used to make balls for the sport, and leather production wreaks havoc on the environment", said the überhot Malik.
She is so right! In India, where much of the world's leather comes from, cattle are marched for days to slaughter without food or water. Those who collapse from exhaustion have their eyes smeared with chilli peppers and tobacco and their tails broken in an effort to keep them moving. At India's abattoirs, animals are often skinned and dismembered while they are still conscious. Also, turning animal skins into leather requires massive amounts of toxic chemicals, and runoff from leather tanneries poisons rivers and streams.
We're with you Liza! Let's ask the International Cricket Council (ICC) to show that cricket is truly a "gentleman's game". Urge the ICC to announce that they will accept synthetic leather balls for professional matches now!