Victory! 70 Beagles Rescued From Tests!
It's time to rejoice!
In a landmark move, 70 beagles who were imported from China by Advinus Therapeutics, a pharmaceutical laboratory in Bangalore, have been released to People For Animals and Blue Cross Chennai following a rigorous campaign for their release by PETA India and these groups. The dogs have been removed from quarantine and handed over to animal protection groups with the permission of the Ministry of Environment & Forests and through efforts made internally in government by MP Maneka Gandhi.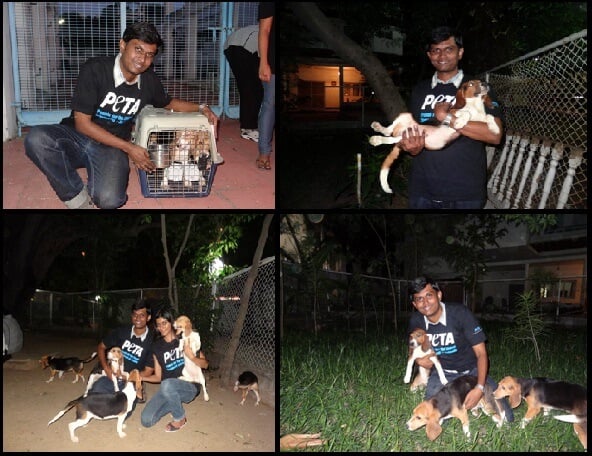 The rescue was approved after PETA notified the Committee for the Purpose of Control and Supervision of Experimentation on Animals that it was falsely stated on an Animal Quarantine & Certification Service document that the dogs were "pets", rather than for experiments. PETA also learned that Cathay Pacific Airways, which has a strict policy against transporting animals to laboratories, was misinformed by the supplier, Beijing Marshall Biotechnology Co., Ltd., that the dogs would not be used or killed in a laboratory.
More than fifty thousand people from around the world sent e-mails to authorities calling for the dogs' release. Actor Trisha Krishnan also sent a heartfelt letter to the government calling for the dogs' release. Many other celebrities helped by tweeting about the campaign and encouraging their fans to write.
"Recently, the Minister of Environment and Forests Jayanthi Natarajan flew to Chennai to personally inspect the 70 beagles. PETA commends and thanks Minister Natarajan for giving the serious attention to this case that it deserves", says PETA's Science Policy Advisor, Dr Chaitanya Kumar. "PETA India invites people who are ready to make the lifelong commitment to caring for a dog to adopt these puppies and give them the loving home that they were almost denied."
Experimenters use beagles because of their friendly and docile nature. Beagles in laboratories spend their lonely lives in cages and are often poisoned with drugs, burned with chemicals or cut open in experimental surgical procedures. At the end of most of these experiments, they are killed and dissected.
Anyone in the Chennai area interested in adopting one of the rescued dogs is invited to contact People For Animals ([email protected]) or Blue Cross Chennai ([email protected]).