Here's wishing everyone a very happy Eid! To help you make this Eid extra special – and animal-friendly – we're sharing these yummy vegan recipes with you!
All you need to keep the festivities and kindness alive is to replace meat with mock meat or veggies. Try out these vegan recipes, and share them with all your friends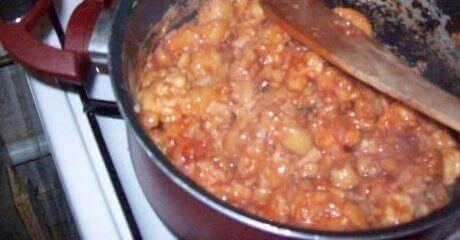 Vegan Mutton Curry
2 medium potatoes, cubed
2 Tbsp canola oil
1 Tbsp coriander seeds
1 tsp cumin seeds
2 red chillies
5 green cardamom pods
5 cloves
1 Tbsp black peppercorns
6 large garlic cloves, sliced
1-in piece of ginger, thinly sliced
1 onion, thinly sliced
1/2 cup shredded coconut (I use packaged coconut from Whole Foods)
1 14-oz can diced tomatoes or 2 medium tomatoes, diced
1/2 tsp turmeric
1 1/2 cups sliced mushrooms
1 1/2 cups soya chunks
1/2 cup watercress, optional
Cilantro for garnish, optional
Microwave the potatoes in a little water for approximately 5 minutes, or until they are slightly tender.
Heat 1/2 tablespoonful oil in a skillet. Add the coriander, cumin, chillies, cardamom, cloves and peppercorns and roast until they start changing colour and become fragrant. Remove and set aside.
Heat another 1/2 tablespoonful oil and stir-fry the garlic, ginger and half the sliced onion until golden brown.
Without adding more oil to the skillet, roast the coconut for a few seconds until it starts turning golden brown. (Be vigilant because coconut can burn easily.) Remove immediately.
Put the spices, onion, garlic, ginger and coconut in a blender with 1/2 to 1 cup water and blend to a smooth paste.
In the skillet used for toasting the spices, heat the remaining 1 tablespoonful oil.
Add the remaining onion and cook until golden brown.
Add the tomatoes and turmeric and cook until the tomatoes start to break down.
Add the mushrooms and soya chunks and stir to coat with the spices.
Add the potatoes. Cover and let cook until the veggies are tender.
Add the spice-onion mixture and stir thoroughly.
Cover and let cook for another 10 minutes to allow the flavours to meld.
If desired, add the watercress in the last few minutes of cooking and garnish with cilantro.
Makes 2 servings
This recipe is adapted from http://www.holycowvegan.net/2008/01/my-dads-not-mutton-mushroom-curry.html.
Soy 'Keema'
1 Tbsp oil
2 small pieces cardamom
1 star anise
2 large onions, chopped
1 red chilli
5 cloves garlic, chopped
1 tsp chilli powder
1/2 tsp jeera powder
1 1/2 tsp coriander powder
Garam masala powder, optional
100 g (1/4 cup) green peas
2 potatoes, boiled and cubed, optional
1 cup soya granules, boiled and drained
Salt, to taste
Coriander leaves, for garnish
Heat the oil, add the cardamom and star anise and fry over a low flame.
Add the onions and fry until pink.
Add the red chilli and garlic and fry for 1 minute. Add the chilli, jeera and coriander powders. Add garam masala if desired and mix well.
Add the peas and potatoes if desired and fry for 3 to 4 minutes.
Add the soya granules and mix well.
Add enough water to cover the keema, bring to a boil and add salt.
Cook over a low flame until the water is absorbed. Garnish with coriander leaves.
Makes 3 servings
This recipe has been contributed by Dr Nandita Shah of Sharan-India (Sharan-India.org).