Vegan Brunch Recipes for the Weekend
"Doing brunch" is the latest weekend trend, so why not start 2013 off right by inviting your friends to a nice leisurely vegan brunch this Sunday? Here are some easy, ethical, healthy and tasty recipes you can try.
2 cups old-fashioned oats
1/4–1/2 cup organic brown sugar (depending on how sweet you like your oatmeal)
2 tsp ground cinnamon
2 tsp baking powder
1 tsp salt
1/2 cup dried cranberries
1 cup non-dairy milk
1/2 block silken tofu
1/2 cup applesauce
1 tsp vanilla extract
Toppings: non-dairy milk, sliced bananas, strawberries, peanut or almond butter
Preheat the oven to 175ºC.
In a large bowl, combine the oats, sugar, cinnamon, baking powder, salt and cranberries.
In a blender or food processor, combine the non-dairy milk, tofu, applesauce and vanilla and process until smooth. Add the wet ingredients to the dry and mix well.
Spread the mixture into a 20-centimetre-by-20-centimetre pan that has been lightly coated with cooking spray and bake for approximately 40 minutes.
Cut into squares and serve with desired toppings.
Makes 4 servings
This recipe comes from OneGreenPlanet.org.
Chickpea Flour Omelette
1 Tbsp flaxmeal
1/2 cup warm water
1 Tbsp oat flour, flax meal or chia seed meal
1/4 tsp salt
1/8 tsp black salt (kala namak)
1/8 tsp garlic powder
Pinch turmeric
1/2 tsp baking powder
1/3 cup chickpea flour (besan)
1/2 cup mixed vegetables (onions, bell peppers, tomatoes and carrots work well), chopped
1/2 jalapeño or serrano pepper, finely chopped (or use black pepper or cayenne, to taste)
1/3 cup chopped spinach or greens, plus more for garnish
1 tsp nutritional yeast
Whisk the flaxmeal and 1/4 cupful of the water in a bowl and set aside for 5 minutes.
Add the oat flour, salt, black salt, garlic powder, turmeric and remaining water and mix well.
In a separate bowl, combine the baking powder and chickpea flour and mix well. Add the flaxmeal mixture and whisk for half a minute.
Add the mixed vegetables, jalapeño, spinach and nutritional yeast and fold in well.
Grease a non-stick pan and heat to medium.
Drop the batter on the hot pan and tap once or twice to spread. Cover with a lid and cook for 6 to 7 minutes.
Remove the lid, add a few drops of oil on the edges and cook for another 5 to 7 minutes.
Flip and cook for 5 to 6 more minutes.
Add more greens and the non-dairy cheese, fold and remove from heat.
Serve with ketchup, toast and hash browns.
Makes one large or two small omelettes
This recipe comes from Sharan-India.org.
Tofu Scramble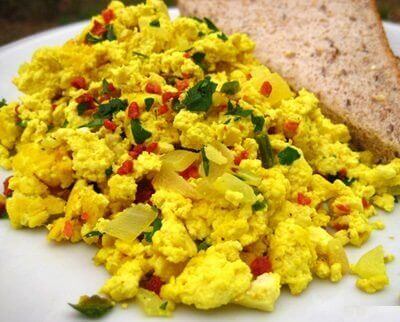 3 cloves garlic, peeled and thinly sliced
1/2 cup minced onion
3 Tbsp diced red bell peppers
1/2 cup chopped mushrooms
300 g firm tofu, drained and crumbled
1/2 tsp turmeric
1/2 tsp salt
1/4 tsp freshly ground black pepper
1 Tbsp fresh chopped parsley
Sauté the garlic, onions and bell peppers on medium heat for about 2 minutes. Add the mushrooms and stir.
Add the crumbled tofu, turmeric, salt and pepper and stir well. Garnish with the parsley.
Makes 4 servings
This recipe comes from HomeCookingAdventure.com.
Baked Potato Wedges
4 medium potatoes, washed and cut into wedges
1 tsp paprika
1/4 tsp chilli powder (optional)
1/4 tsp garlic powder (optional)
Salt and freshly ground black pepper, to taste
3 Tbsp oil
Green onions, chopped (for garnish)
Preheat the oven to 220°C.
Place the potato wedges in a large bowl. Add the paprika, chilli powder, garlic powder, salt, pepper and oil and toss gently to coat.
Lay the wedges in a single layer on a greased baking tray.
Bake until golden brown and crispy on the outside, about 25 to 30 minutes.
Makes 4 servings
You'll find more great vegan recipes here and here. And to give animals plenty of reasons to celebrate in 2013, get your free vegetarian/vegan starter kit from PETA India by writing to [email protected] along with your address and contact details.