Uri Geller Offers Ewan Venters Psychological Help to Quit Foie Gras
Magician, psychic and spoon-bender extraordinaire Uri Geller has just sent Fortnum & Mason CEO Ewan Venters a novel proposal. Like many other people who have learned about the cruelty of foie gras production, Uri can't understand why Fortnum & Mason can continue to sell the revolting foodstuff and rightly concludes that anyone who can profit from this torture needs help!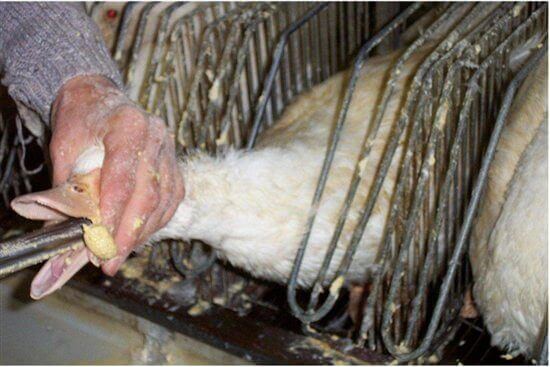 Uri has kindly offered to use his hypnotic powers to allow Mr Venters to rediscover his compassion – here's his letter in full:
Dear Mr Venters,
I understand that Fortnum and Mason are one of the last remaining retailers to still sell foie gras. My friends at PETA tell me that despite condemnation from every major animal welfare group, and video evidence showing the sort of gross abuse which takes place on some farms which supply foie gras to various distributors, Fortnum continues to offer a product which is so cruel it is illegal to produce in the UK.
There seems to be only one possible explanation: there could be some psychological block stopping you from doing the right thing. Luckily, I may have just the remedy. Meet with me, any time and any place, and through hypnotic suggestion I will help you tap into your mind, to put yourself in the place of the birds and know that it is indefensible to sell the product of their extreme suffering. My techniques have helped thousands of individuals improve their lives by quitting smoking and kicking their junk food habit, and I am confident I can help you come to realize you'll want nothing to do with this vile foie gras. Addressing our psychological blocks can be extremely powerful!
So what do you say Mr Venters? Let's get together and work towards a new, more understanding you. Looking forward to hearing from you.
Much energy,
Uri Geller
Thanks to Uri for speaking out for the birds who are tortured for foie gras! Our fingers are crossed in the hope that Fortnum's boss will take Uri up on his offer and learn to feel some empathy for the suffering of force-fed ducks and geese.
Send Ewan Venters your own suggestions (hypnotic or otherwise) about how to turn over a compassionate new leaf and ditch foie gras by visiting PETA UK's action page: StopFortnumAndMasonFoieGrasCruelty.com.