Sunder: Now and the Next Steps
Congratulations to everyone who helped with the #FreeSunder campaign! It was an enormous effort with a wonderful result. Sunder is now at his new home, as per the order of the Supreme Court.
First, after getting off the truck, Sunder was given fruits. Along the road, he had become accustomed to and seemed to look forward to getting a treat at every stop!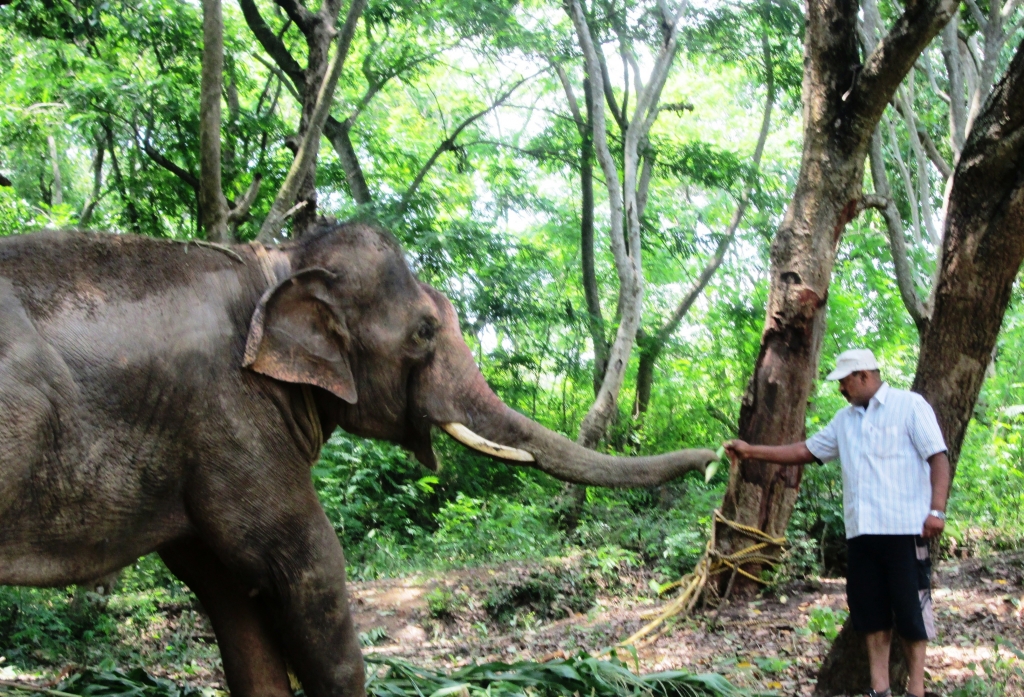 Sunder has a terrible injury  on his leg from being chained too tightly for a long time. It is no doubt painful to him. Bannerghatta Biological Park (BBP) veterinarians and handlers say that initially Sunder will need to be kept lightly restrained until the injury is brought under control and has healed and until he gets to know the other elephants and the caretakers. He needs to trust that unlike his previous "caretakers" and mahout (handler), they are not out to hurt or trick him. Since he is a large animal who has been very badly abused, precautions must be taken to ensure that he does not hurt himself or others. Right now, Sunder may find it difficult to trust anyone, but that will change.
Sunder's planned transition is explained in this NDTV report.
Today, officials at the park gave PETA permission to build a temporary enclosure inside the resting area where all the elephants are kept at night for Sunder, where he can be managed during treatment and also protected from rain as useful for the treatment of his injury. His injury is, however, massive and is just above a joint that will be hard to heal, but the veterinarians are working on it. BBP has also given PETA permission to build a 1.25-acre sturdy enclosure that can be used for male elephants when in musth (a period of sexual urge that makes them aggressive), where they can be kept chain-free (the traditional method in India is to keep them in chains during this time). This enclosure can be used at other times, too, such as for the gentle introduction of any other rescued elephant to the park before he or she joins the herd.
Once he is thought to be psychologically and physically ready, Sunder will be transitioned to be with his new family, with whom he will be able to walk around freely.
He has already met a few of those family members and was quite excited to see them. His loneliness and desire for the company of other elephants over the years, after being taken from his mother, must have been overwhelming.
The first elephant Sunder met was Van Raj, a giant bull elephant. Dr Manilal Valliyate, PETA's director of veterinary affairs, reports, "When Van Raj went near Sunder, he was a little scared, but when Van Raj touched him, that was the moment I saw a glow in Sunder's eyes. He also touched Van Raj and found himself to be in the comfort of his first friend at the Elephant Care Centre!"
Sunder was first unloaded from the truck in the forest and then moved to the Elephant Care Centre. Dr Valliyate reports, "When two female elephants and Van Raj came to accompany Sunder to the Elephant Care Centre, it was such a wonderful sight to see Sunder surrounded by company of his own species. Maybe for the first time, he tried to strike a chord with the ladies near him. He touched and smelled them."
Another new family member Sunder met was this baby elephant, Shiva: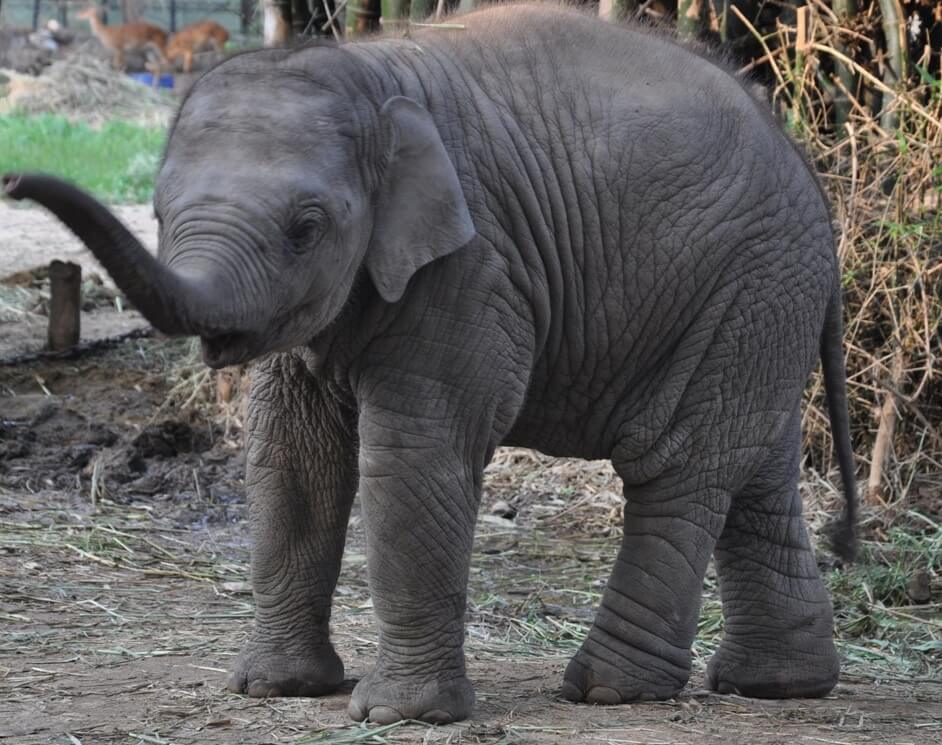 Shiva excitedly greeted Sunder, but since Sunder may not have ever seen a baby elephant before, he was scared. With the enthusiasm Shiva showed in making Sunder a new friend, it seems likely that the two will become playmates and best buddies in time.
Other elephants in the park bathe in the pond and wander about on their own with their mahouts watchful but at a distance. Park officials have told PETA that the entire 49.5-hectare forested area for elephants will be fenced in to allow the herd of 13 elephants – which Sunder will join – to roam freely at all times except when they need medical treatment.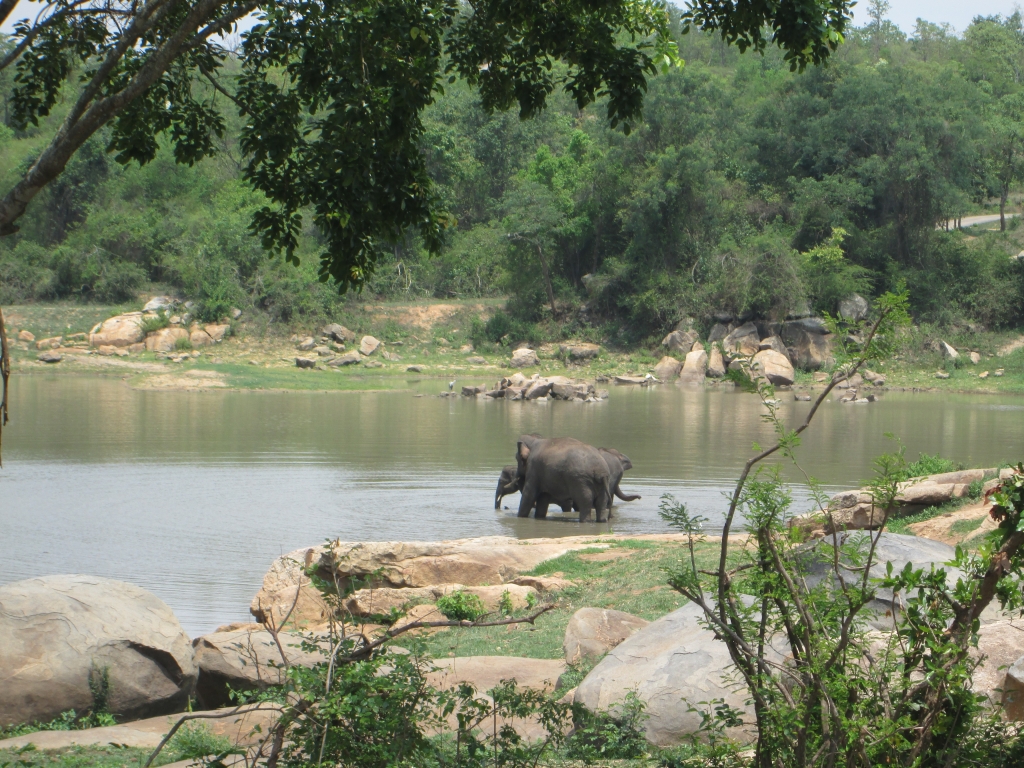 For more information on Sunder, keep an eye on this blog.