Shahid Kapoor Is the Sexiest Vegetarian in Asia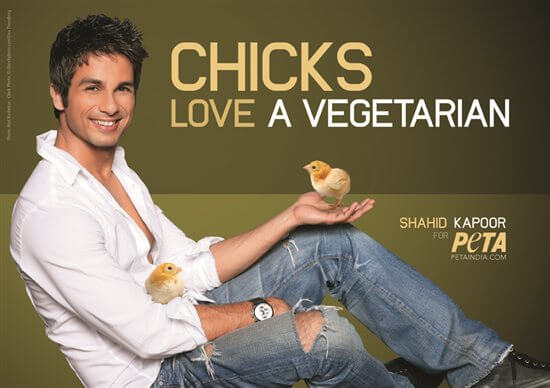 After a fierce battle on PETAAsiaPacific.com, Shahid Kapoor has won the title of PETA Asia's Sexiest Vegetarian Man for 2011. Singer Faye Wong has been crowned Asia's Sexiest Vegetarian Woman. Among the popular contenders this year were Bollywood film heavyweights Kareena Kapoor and R. Madhavan, model-turned-Hollywood hottie Maggie Q, Mongolian singer Nominjin, Taiwanese actor Blue Lan, Super Girl Jane Zhang, actors Gao Yuanyuan and Barbie Hsu, and songwriter Louis Cheung.
Favorite celebs from outside the continent include actors Natalie Portman, Hayden Panettiere and Milo Ventimiglia; fighting champion Jake Shields; and singers Anthony Kiedis (of the Red Hot Chili Peppers) and Leona Lewis.
Kapoor, who is looking forward to the release of the much-anticipated film Mausam, says, "Being voted as sexy is a matter of perception, but being vegetarian is a lifestyle change and something that comes from a sense of responsibility." In addition to helping keep your body trim and looking sexy, being vegetarian means you're doing your part for the planet and, of course, for animals!
So what are you waiting for? Pledge to go vegetarian today.