Sean Kingston's New 'Gig' for PETA Youth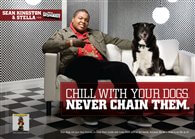 With hit singles such as "Fire Burning" and "Face Drop" on rotation in dance clubs and on radio stations around the world, it's safe to say that Sean Kingston isn't going anywhere. In addition to writing upbeat songs that make you want to dance, Sean is speaking out for those who can't speak for themselves—dogs! After hearing about his love for his dog, Sunshine, and learning that he believes that dogs should be treated as family members rather than as burglar alarms, we knew that Sean would be the perfect new spokesperson for our anti-chaining campaign-so we arranged for Sean and his canine friend Stella to star in this eye-catching petaDishoom ad.
Sean knows that life on a chain is no life at all. According to animal behavior specialists, dogs who are forced to live a lonely life at the end of a chain suffer from severe emotional and psychological damage and are nearly three times more likely to attack than untethered dogs are. Imagine living outside tethered by a heavy chain in all weather extremes with no human contact—it's not a happy thought. As social pack animals, dogs deserve to live indoors, go on long walks, play, and feel companionship just like any member of your family.
Check out what else Sean had to say about his love for dogs in this behind-the-scenes interview.