Pooja Bhatt Wins PETA India Hero to Animals Award for International Animal Rights Day
For never missing an opportunity to speak up for exploited animals and for urging action on kindness to everyone from elephants to birds, entertainment industry powerhouse and Bombay Begums star Pooja Bhatt has nabbed a Hero to Animals Award from PETA India for International Animal Rights Day (10 December).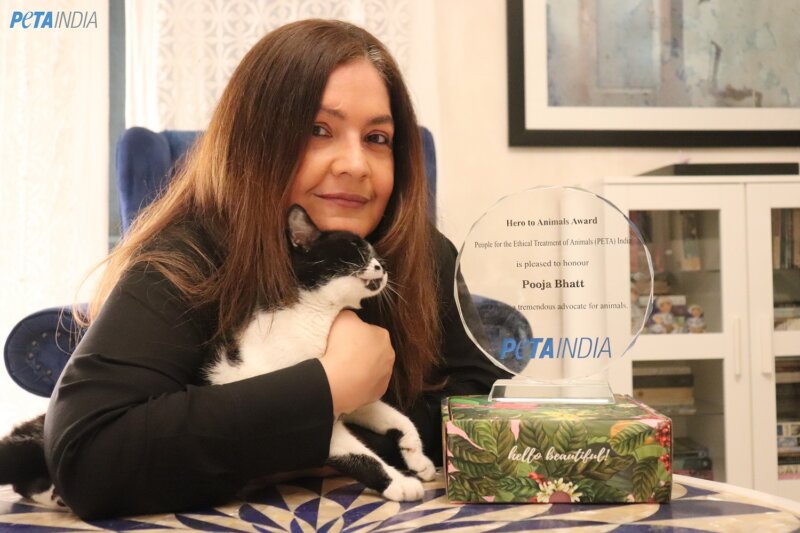 When an animal is in trouble, Bhatt jumps in to help. She supported PETA India's campaign to ban horse-drawn carriages in Mumbai, supported a call for the release of a captive elephant named Malti who was mercilessly beaten near Jaipur, and informed people on social media how easily manja (or sharp kite string) can injure and kill birds. She also practises what she preaches by keeping meat off her plate, adopting animal companions from the street – and treating them as members of the family – and even helping to sterilise cats in her neighbourhood so that others won't be born to face being crushed by cars.
Bhatt received a trophy and a letter of appreciation. Previous recipients of PETA India's Hero to Animals Award include Odisha Chief Minister Naveen Patnaik, for allocating funds for feeding community animals during the lockdown; Delhi Minister of Food and Civil Supplies, Environment & Forests and Elections Imran Hussain, for protecting the lives of humans and other animals by banning all forms of manja; singer Zubeen Garg for calling for an end to an animal sacrifice in Assam; Gaurav Gera and Rohit Gujjar for rescuing a trapped baby parakeet; Shilpa Shetty for speaking out against circus cruelty and taking other actions for animals; Zareen Khan, for rescuing a cat from the streets; Cyrus Broacha, for refusing to perform a stunt that involved riding a bull; Rani Mukerji, for helping a dog in distress on her film set; Asin, for saving a dog who was hit by a car; Imran Khan, for stopping a dog trainer who was smacking a dog on a film set; Sadaa Sayed, for helping a puppy who had just avoided being hit by a car during a rainstorm; and Dia Mirza's production house, Born Free Entertainment, for showing that homeless cats and dogs make wonderful additions to families.