Mumbai's Vada Pav Features in PETA India Vegan Taxi Ad Blitz With LytAds
Just in time for International Animal Rights Day (10 December), PETA India has joined forces with advertising company LytAds to post ads on taxis in Mumbai – which recently won our 2021 Most Vegan-Friendly City Award – urging people to take action for animals simply by leaving meat, eggs, and dairy off their plates. The ad shows vada pav, the popular, low-cost Mumbai snack, to point out how easy it is to eat vegan. Vada pav is typically vegan. Other local animal-free fare includes poha, misal pav, sev puri, kothimbir vadi, and ragda pattice.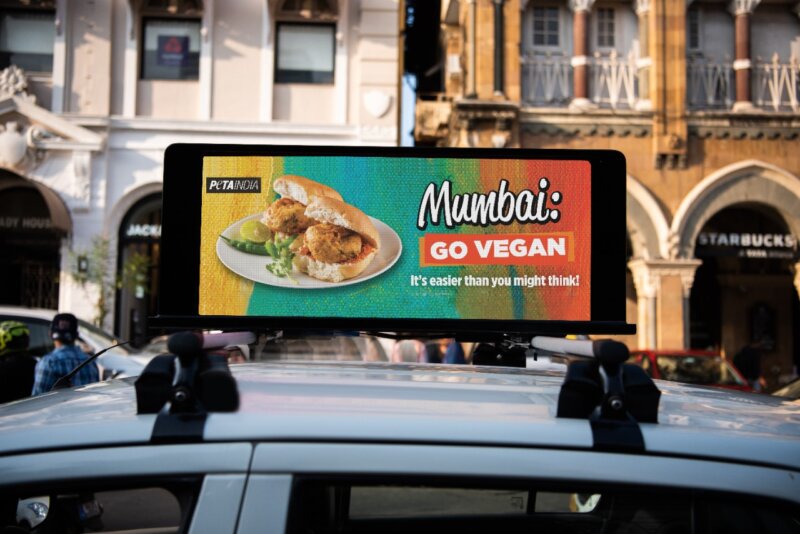 Mumbai's Deonar slaughterhouse kills about 6,000 goats and sheep, 300 buffaloes, and 300 pigs a day. PETA India has filmed buffaloes, goats, and other animals arriving there severely injured or dead. Meanwhile, cattle at Deonar have been filmed being slaughtered in full view of each other while fully conscious. In addition to causing animal suffering on a massive scale, meat, egg, and dairy production is a leading cause of water pollution, deforestation, and greenhouse-gas emissions, and a United Nations report concluded that a global shift towards vegan eating is necessary to combat the worst effects of climate change. In addition, people who avoid animal-derived products are less likely to develop cancer, heart disease, and diabetes – all of which are widespread health problems in India.