PICS: Vijender Singh's Ad Launch at WIFW
Acclaimed Indian boxer Vijender Singh and Wills Lifestyle India Fashion Week (WIFW) Autumn/Winter 2014 teamed up with PETA India to knock out cruelty to animals in circuses.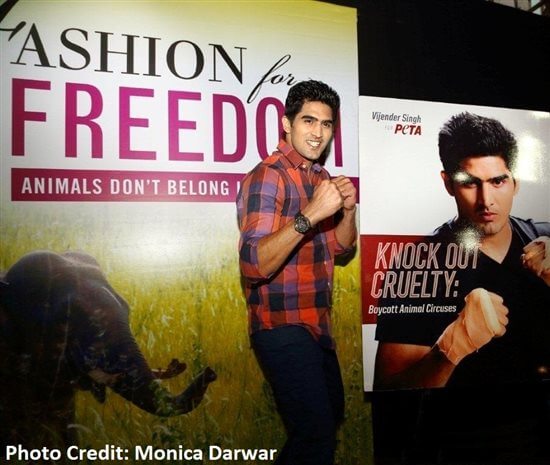 The initiative was part of an ongoing Fashion for Freedom joint initiative between PETA and the WIFW.
"Animals cherish their freedom every bit as much as we do, but circuses deny them their freedom and every other form of natural expression", Singh says. "I'm asking people across India to help knock out cruelty by never attending a circus that uses animals."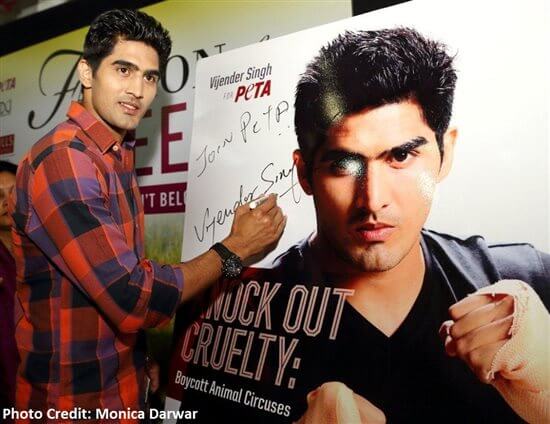 "We are proud to announce our association with PETA yet again", says Sunil Sethi, president of the Fashion Design Council of India (FDCI). "Fashion is an effective tool to create awareness about issues which we tend to overlook. We believe that every living creature has a right to live free from pain and suffering and with dignity. Forcing animals to perform at a circus infringes upon this innate freedom. We are teaming up with PETA to protect and respect animals and give them the right to live unreservedly." 
Now it's your turn! Share PETA's recent investigation of 16 circuses in India with everyone you know. Let people know that animals in circuses are subjected to chronic confinement, physical abuse and psychological torment.
You can also add your voice to PETA's by urging the Indian government to ban animals from being exhibited or forced to perform in circuses.