PETA India's Vegan Raksha Bandhan Gift Guide Is Here!
If you don't know what to get your loved one for Raksha Bandhan, look no further than PETA India's Vegan Raksha Bandhan Gift Guide, which helps awesome people like you find the perfect present to show how much you care while being kind to animals and the environment.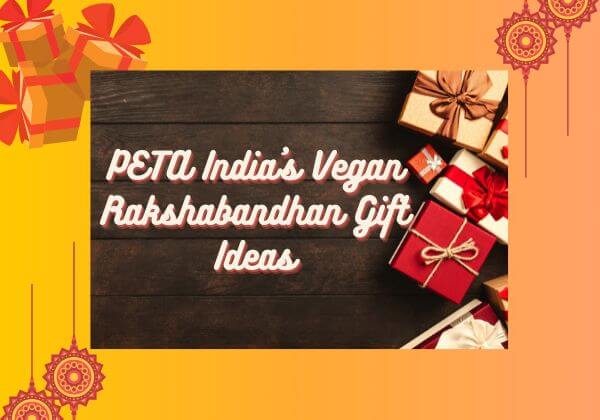 For people who are one of life's greatest treasures and deserve to be honoured, here are PETA India's top vegan Rakhi gift recommendations:
For Foodies
For more vegan foods available online, visit vegandukan.com.
For Style-Hungry Sisters
Unique Handbags by Aulive: Help her make a style statement by gifting her stunning, minimalistic bags without engravings, bling, and other kind of frills. Basics are back.
Heels, Sliders, and Flatforms by Sol'eart Fashion: Sol'eart's combination of bead art and quirky fashion, influenced by pop art that mirrors the contemporary lifestyle of today, is something to look out for as a Rakhi gift.
Footwear, Handbags, and Accessories by Zouk: Handcrafted, cruelty-free, and proudly Indian, Zouk's vegan chappals, sliders, sandals, and other footwear all are top-notch, as are their wallets and bags in popular styles such as handbags, backpacks, and totes.
Moon Rabbit Sasha Crossbody Wallet in Mango: Here's the perfect wallet for all your valuables by Moon Rabbit. It's animal-free and stylish.
Sarees by Sepia stores and Mati: Give a traditional touch to your day with these beautiful, cruelty-free sarees.
Y2K Pro Sustainable Sneakers from Thaely: Sustainable, stylish and cruelty free, these sneakers from Thaely make a perfect gift for all the sneaker heads out there.
Vegan Crossbody and Sling Bags by The House of Ganges: This collection of vegan bags will leave your loved one in awe and up her style game.
Luxury Tote Bag by Cotton Mellon: This vegan tote bag makes a great fashion statement for casual and formal occasions.
See the complete list of brands with PETA India's "PETA-Approved Vegan" certification here.
For Beauty Buffs
Find more cruelty-free cosmetics in the PETA US global "Beauty Without Bunnies" database here.
Happy Rakhi!