PETA India's Vegan Raksha Bandhan Gift Guide Is Here!
If you don't know what to get your loved one for Raksha Bandhan, look no further than PETA India's Vegan Raksha Bandhan Gift Guide, which helps awesome people like you find the perfect present to show how much you care while being kind to animals and the environment.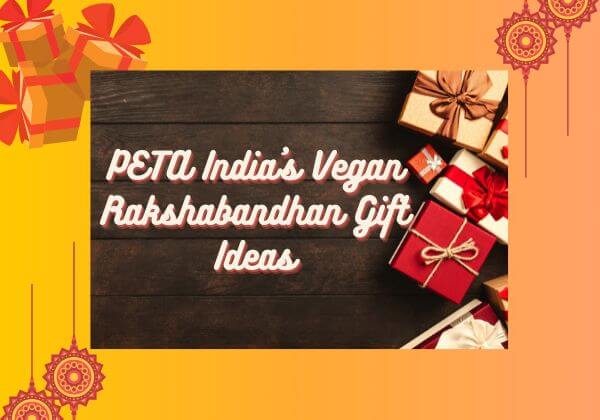 For people who are one of life's greatest treasures and deserve to be honoured, here are PETA India's top vegan Rakhi gift recommendations:
For Foodies
For more vegan foods available online, visit vegandukan.com.
For Style-Hungry Sisters
MixMitti's Waist Pouches and Wallets: These vegan leather waist pouches and wallets from high-end lifestyle accessory line MixMitti are hand crafted by skilled artisans, and the brand aims to raise awareness of species extinction and the way human activities endanger wildlife and the environment.
Vegan Heels, Boots, Sandals, Mules, and Juttis by PAIO Footwear and Accessories: Pamper their feet with a pair of handcrafted vegan, sustainable, and design-forward shoes that honour India's artisans and are compassionate towards animals.
Braag Green's Vegan Bags: These eye-catching cross-body bags, clutches, hobos, and other bags made of cork, hand-embellished fabrics, cotton, and other animal-free materials will put a smile on your loved one's face.
Baya Studio Vegan Footwear: This vegan brand's shoe designs are fit for queens and kings and will add a spring to their step – without hurting animals.
Footwear, Handbags, and Accessories by Zouk: Handcrafted, cruelty-free, and proudly Indian, Zouk's vegan chappals, sliders, sandals, and other footwear all are top-notch, as are their wallets and bags in popular styles such as handbags, backpacks, and totes.
See the complete list of PETA India–approved vegan brands here.
For Beauty Buffs
Find more PETA-approved cruelty-free cosmetics here.
Happy Rakhi!