PETA India Brings New Victorian-Style E-Carriage to Kolkata to Replace Horses Used to Haul Tourists
At a press conference on 28 July 2022, PETA India and CAPE Foundation displayed a new Victorian-style e-carriage that could replace Kolkata's horse-drawn vehicles as Mumbai has already done. The use of horse-drawn carriages in Kolkata has left horses injured, diseased, and malnourished and caused traffic accidents. The press conference featured a message from the additional commissioner of the transport department of Maharashtra government and testimonials from Mumbai e-carriage drivers and tourists who have tried the e-carriages in use there.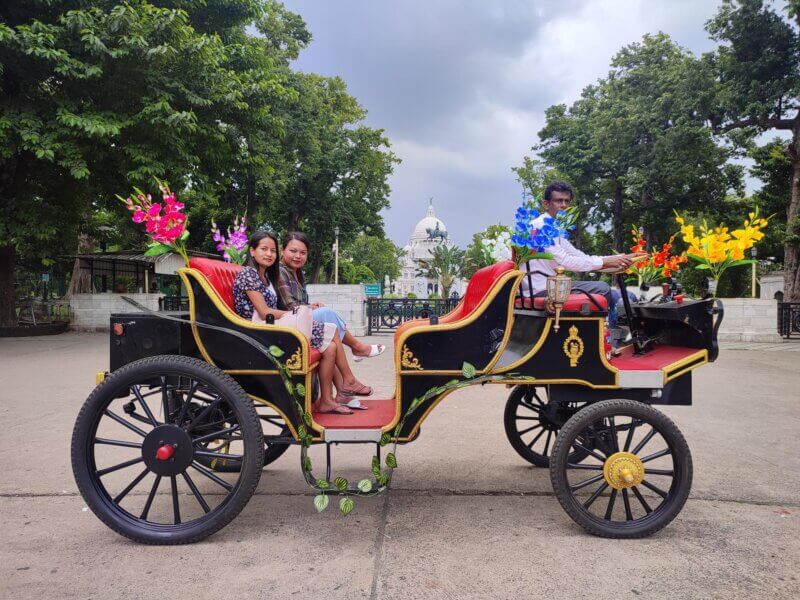 The e-carriage is a battery-operated, sleek, and environment-friendly vehicle with a vintage Victorian-style design. The new vehicles will not only spare horses pain and suffering but also offer horse-drawn carriage drivers an improved livelihood opportunity. These carriages will help bring Kolkata's urban heritage rides into the 21st century. PETA India displayed the e-carriage in front of the south gate of the Victoria Memorial on Friday, 29 July, for public viewing.
Assessment reports by PETA India and the CAPE Foundation have established that more than 100 horses used for rides in the city are anaemic, malnourished, and chronically starved; some suffer from severe injuries, including bone fractures; and many are forced to live amid their own waste on filthy, decrepit, and illegally occupied premises in the city, including an encroachment area under a flyover.
PETA India has also compiled a factsheet describing 10 reported road accidents in Kolkata involving horses, highlighting the dangers of using them to haul tourists. Such accidents cause the animals pain and suffering and pose safety risks to the passengers in the carriages and commuters on the road.
Join us in urging authorities to end the suffering of horses in Kolkata and replace them with animal-friendly and eco-friendly Victoria-style e-carriages, just like Mumbai has done.
Sign the Petition to End Horse-Drawn Carriages in Kolkata