Let us wrap up our celebration of PETA India's 10th anniversary and some of our most noteworthy victories for animals with a look at a recent win for one of our (literally) biggest animal buddies – elephants.
Last December, we were delighted to announce that elephants currently held captive in Indian zoos and circuses will be transferred to forest camps and sanctuaries controlled by the Forest Department– and, better yet, they will no longer be kept in chains. Elephants in zoos spend their entire lives standing or shuffling about in barren enclosures, in isolation or paired with just one elephant. Often, they go insane from the lack of exercise and companionship.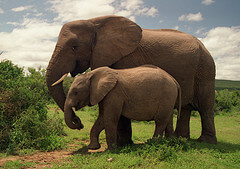 http://www.flickr.com/photos/exfordy/429421469/sizes/l/#cc_license/ /CC BY 2.0
The tide of public opinion is turning against keeping our pachyderm pals in captivity. Recently, PETA UK gave Europeans the inside story on what goes on in the world's biggest circus – Ringling Bros. and Barnum & Bailey – before their first-ever tour of Europe began, resulting in rock-bottom attendance at the early venues and cancellation of performances in some cities. You can help keep the pressure on circuses by urging the government to ban the use of any animals in circuses. Thanks for being a part of PETA India's first ten years. Now we will look ever forward (at least until our next big anniversary) to all the victories we will win together on behalf of animals!