'Mermaid' Adah Sharma in Vegetarian Ad
Amidst the box office success of her recent role in Hasee Toh Phasee and Heart Attack, Bollywood and Tollywood star Adah Sharma trades in her legs for fins to show fans that going vegetarian is good for animals and their health. Her enchanting mermaid look was designed and styled by Stylecracker.com, with hair and makeup styling by Ayesha Wadiwala. Industry-leading photographer Gaurav Sawn shot Adah's captivating ad.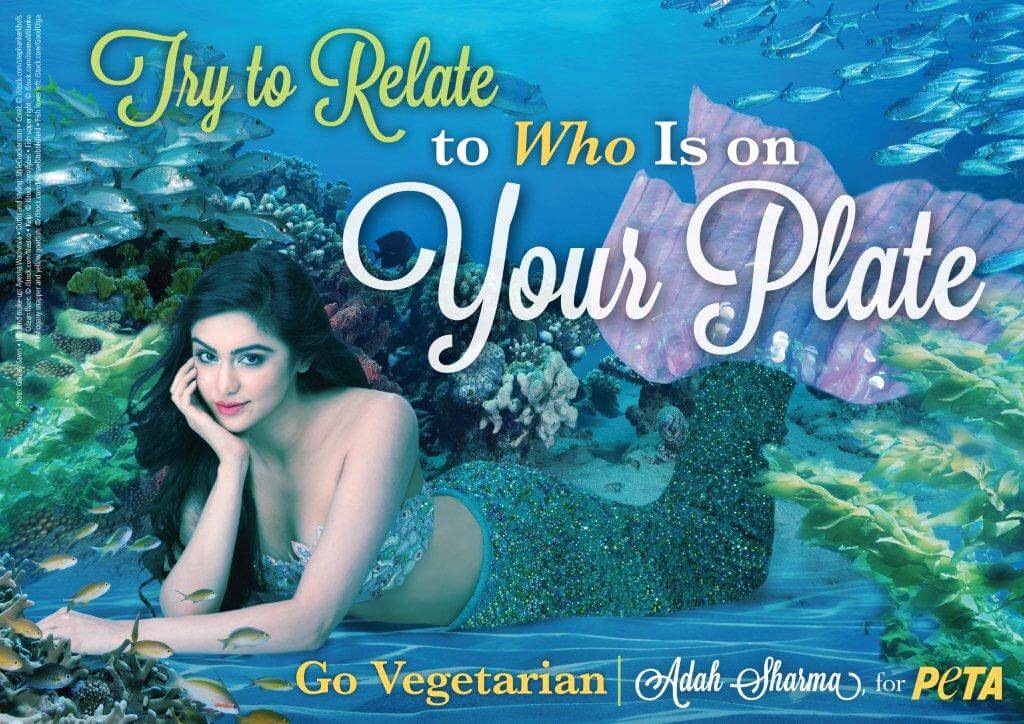 As a lifelong vegetarian, Adah knows that fruits, legumes and vegetables are loaded with vitamins, minerals and other essential nutrients, without all the cholesterol, saturated fat and contaminants found in meat.
On being a vegetarian, the finned filmi says,"I think it keeps you really healthy, your muscles and your bones. It gives you a lot of stamina". Not to mention that "[b]eing a vegetarian gives you glowing skin, nice thick hair. It  keeps you happy since you are not killing any other living beings", the mesmerizing mermaid adds.
Fish who are killed for food are commonly suffocated, impaled, crushed and gutted – all while they're fully conscious. India is the second-largest producer of fish in the world. Turtles, dolphins and other aquatic life often get caught in fishing nets meant for other species. When this happens, if they are not simply left to suffocate, their injured bodies are often tossed overboard, leaving them to bleed to death or be eaten by predators.
Studies have found that fish feel pain. And because the toxins that fish absorb into their flesh can be up to 9 million times as concentrated as the water they live in, eating fish flesh can cause serious health problems. "I have been told since I was very little, what you eat today walks and talks tomorrow", Adah says.
You can help fish and other animals and improve your health by ditching meat like Adah. Get started by ordering a free vegetarian/vegan starter kit from PETA, complete with nutrition information, tips on making the transition and tasty recipes. Watch Glass Walls with your friends and family to learn more about how your decision not to eat meat benefits others.