Adah Sharma Wants Victorias off Mumbai's Roads
Authorities are urged to heed public demand and remove dangerous horse-drawn carriages from Mumbai's streets.
Members of PETA India recently joined a demonstration led by Adah Sharma at Carter Road in Mumbai just before the one-year anniversary of the 8 June 2015 Bombay High Court ruling that horse carriages must be phased out of Mumbai within a year.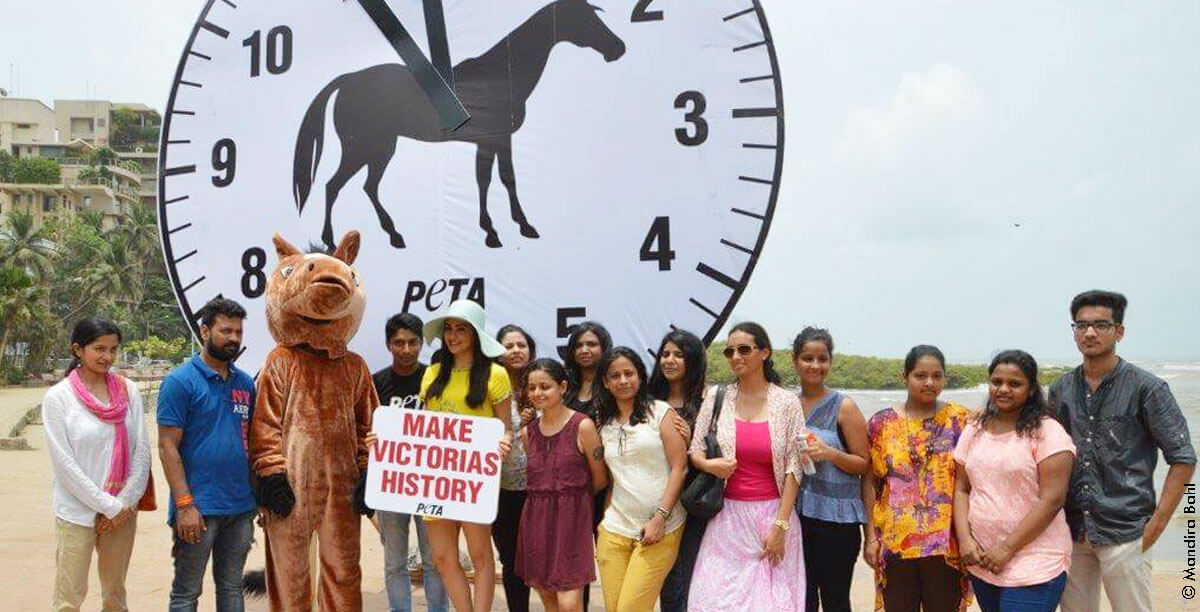 Standing in front of a large clock with a banner that read, "Time Is Running Out: Relegate Victorias to History", the demonstrators, including a "horse", urged authorities to expedite the finalisation and implementation of a rehabilitation plan for the carriage owners and drivers and the overworked horses. They also called on the Brihanmumbai Municipal Corporation to close the stables quickly.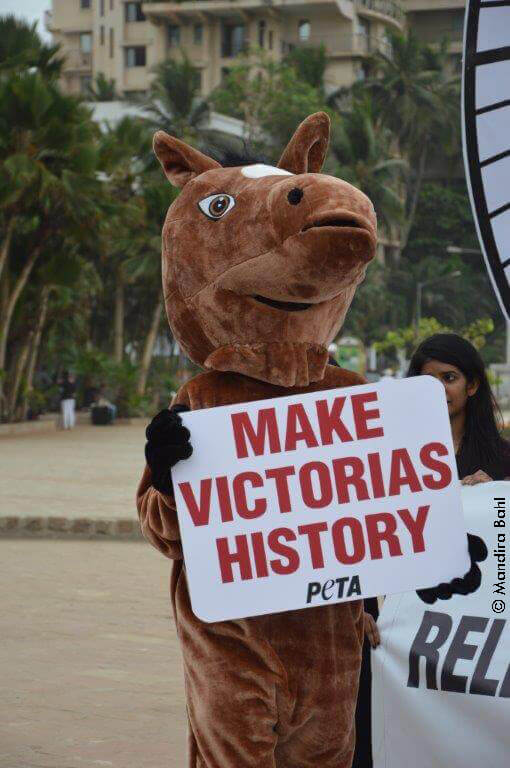 In April, the Supreme Court allowed for horse carriages to ply for the next six months or until a review petition is finally decided by the Bombay High Court, whichever is earlier. The Supreme Court also called for the Government of Maharashtra to present its plan for the rehabilitation of the carriage owners and drivers. PETA India was an intervener in the Bombay High Court matter, which resulted in the directive that Victorias be phased out, and was also represented in the Supreme Court.
According to a 31 May 2016 Mumbai Mirror report, "The state will urge Victoria carriage owners to give up their joyride business, and horses, in exchange for taxi or auto permits, a promising initiative that seeks to rehabilitate 140 such cart riders".
PETA India had provided the Bombay High Court with reports of cruelty to horses from its numerous inspections of Mumbai's horse-drawn Victoria industry and information about traffic accidents and hazards that the Victorias cause. These reports reveal that the horses were often injured, sick or severely malnourished and that they were forced to stand amidst their own waste in filthy and decrepit stables. The reports also reveal that the horses were frequently denied adequate rest, water and veterinary care. In addition, forcing horses to spend their entire lives on pavement – when they are meant to walk on grass – is inherently cruel. Once horses lose function in a joint, as quickly happens when they're made to walk on pavement or haul heavy loads, more stress is placed on the other joints, tendons and ligaments. As a result, the healthy parts of the legs are subjected to wear and tear, eventually leading to inflammation of all the joints, tendons and ligaments. No medication or surgery can cure this condition, and it cannot be reversed.
In Delhi, the government moved tonga drivers into other professions by providing them with open access to tehbazari sites and financial assistance to buy auto rickshaws.
Mahesh Bhatt, Pooja Bhatt, Arunoday Singh, Munish Makhija, Dino Morea, , Arko Pravo Mukherjee, Zeenat Aman, Hema Malini, John Abraham, Jacqueline Fernandez, Sandip Soparrkar and Jesse Randhawa have all appealed to authorities to ban Victorias.
You can help.
Let authorities know you want horse carriages removed from Mumbai streets.