Lauren Gottlieb Combats Circus Cruelty
She scorched the silver screen with her dancing in the film ABCD: Any Body Can Dance, and she is setting the stage on fire in the reality dance show Jhalak Dikhhla Jaa. And recently, stunning Lauren Gottlieb was chained and shackled along with a 2-metre-high lifelike elephant holding a placard reading, "Unchain Elephants: Ban Animal Circuses", for a new PETA India campaign just in time for Ganesh Chaturthi (which is on 9 September). Her point? That animals in circuses are deprived of everything that's natural and important to them and are regularly beaten, just for a few cheap tricks.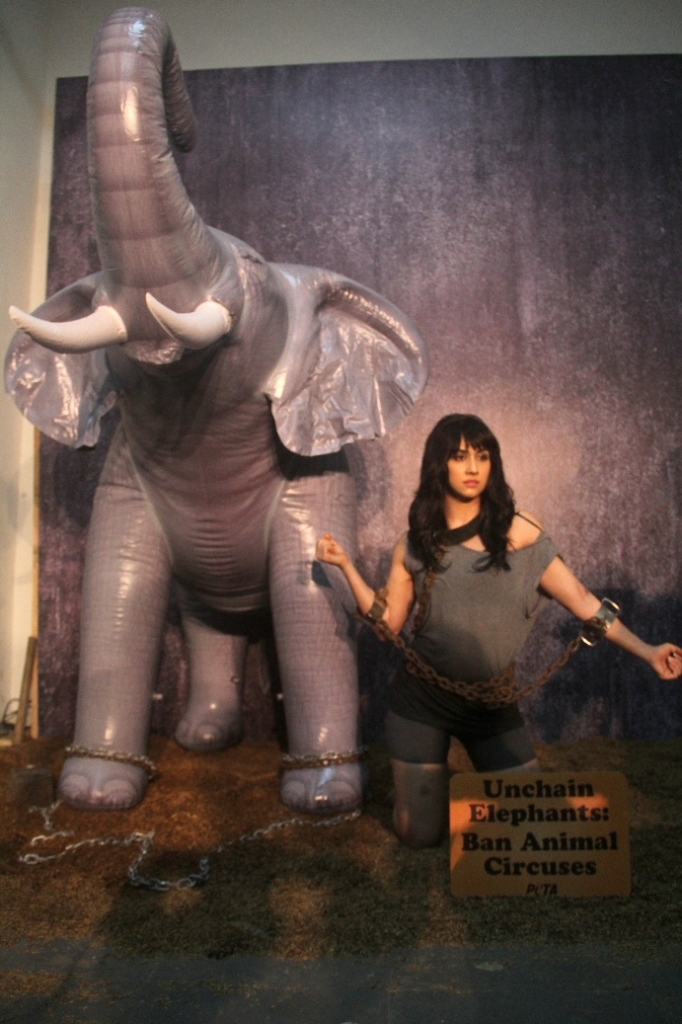 "When I dance, I know I am free and happy, and that's what brings out the best in me and my performances", Lauren says. "We are all born free. I feel that animals also have the right to be in their natural habitat and not where they are put on stage with chains and shackles for human gratification. When I think of animals being used in circuses for human entertainment, I think of slavery. Animals love their freedom just like we do, but circuses steal their freedom away and they are forced to live like a prisoner for no crime." She adds, "I urge people to discourage this act of cruelty by not going to circuses".
Elephants and other animals in circuses are subjected to chronic confinement, physical abuse and psychological torment. Whips and other weapons – including ankuses, which are heavy, sharp steel-tipped rods – are used to inflict pain on animals and beat them into submission. Elephants perform confusing, unnatural tricks – such as standing on their heads – not because they want to but out of fear of violent punishment.
Even when they aren't performing, elephants and other animals in circuses endure a lifetime of misery. Dogs are crammed into dirty cages and rarely let out, and birds have their wings clipped so that they cannot fly and are confined to tiny cages. Horses are kept tethered on short ropes, and elephants are kept shackled almost constantly.
The government has already banned the use of bears, monkeys, tigers, panthers, bulls and lions in performances. Join PETA India in asking the government to follow the lead of Bolivia, Bosnia and Herzegovina, Cyprus and Greece by banning the use of all animals in circuses.