The Kolkata Vegan & Eco-Friendly Wedding You Wish You Were Invited To
Weddings are truly special events. These days, brides and grooms are being creative about personalizing their big day and giving guests a taste of what their life is like together. For Shreya and Abhinav, that meant making their Kolkata nuptials an all-out vegan affair in order to spare animals and the environment.
Having a vegan wedding is a piece of cake. It's easy to veganize traditional dishes with non-dairy milks, tofu, mock meats and other delicious Earth– and animal-friendly ingredients. Shreya and Abhinav treated their guests to vegan Vegan Curd Vada, Coconut Milk Kesari Kulfi, Mushroom Cashew Masala among other treats.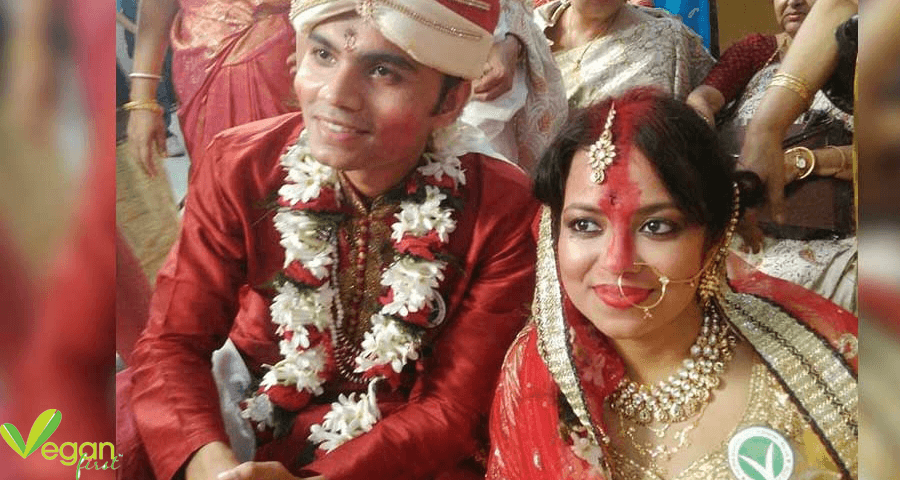 Vegan First met the couple and got exclusive bites about their big day:
VF: What inspired you to both to be vegan?
It was Gary Yourofsky's "Best Video You Have Ever Seen" – that was the first hit, which sparked our curiosity. This was soon followed by documentaries like "Cowspiracy", "Forks Over Knives", and also "Earthlings". I was already an Environmentalist working with Greenpeace and Shreya was a health-focused person into power yoga. So, we took a look at the huge amount of scientific studies and research which made us both take a step back to re-evaluate our lives. It took us few months to understand what wrong we were doing all these years, and kaboom, we both turned vegan, since July 2015.
VF: Can you tell us about the special food that was served at the wedding?
We had 100% plant-based menu i.e. not using any meat or dairy products in our reception. Meat and dairy industry contribute considerably on the emission of GHG causing Climate-Change, deforestation, water waste etc. There were many vegan dishes, few of them to mention were Vegan Curd Vada, Coconut Milk Kesari Kulfi, Mushroom Cashew Masala, and more. There were mouth-watering items on the menu, made with plants, spices, and love. On our engagement event, we had cut a vegan cake. Though we had several challenges in removing animals-based dishes, since this was a Bong wedding, but finally, we could convince others that food which is a symbol of our Eco-Partnership can't have pain or blood of fellow earthlings.
VF: What is the one special thing about your wedding that sets it apart?
Our invitation card said "Mother Nature is our witness" – the Idea of Eco-Partnership comes from there. Marriage is where two people come in official partnership for life. In current time, marriages have become a symbol of personal joy where a small or big group of people come together to celebrate with total disregard for our environment. We wanted to make our partnership not just a personal joy but a public one. We wanted the impact of our marriage to be a positive one, not only to our closed ones but also to those who even don't know us. Hence we're termed it an Eco-Partnership – partnership in an Eco-friendly manner.
VF: What were some of the ways in which this wedding was eco-friendly?
We used no plastic bottles, glasses or spoons at the event hence no disposable plastic and plastic waste. We took care of food-wastage by donating it to an orphanage or old age home or any other needy group. For the decoration of the venue, there were no plastic or non-degradable materials used. We used flowers and leaves.
Both families purchased no silk clothes or leather products for this event; everything is synthetic. Our engagement rings were made of recycled Gold. As Gold has also impact on the environment in form of mining and causes human rights issue, we have minimized the purchase of new gold (also called "Dirty Gold"). Whenever we buy a new product there is a cost to the environment and we tried a lot to reduce the new purchase of things like clothes etc. For example, the Sherwani I wore on the marriage was not bought but borrowed by a friend. Shreya couldn't find a Lehenga of her size in this way, hence she had to purchase her outfit from Adi Dhakeshwari Bastralaya in Kolkata, but made sure it was completely vegan. Even her Makeup is cruelty-free and eco-friendly like coloressence, biotique etc.  I borrowed my Sherwani from my friend as I could find it easily.
We walked down to venue instead of taking a car or horse for the Baraat, those practices are polluting the environment and cruelty to an animal, so a big no-no for us.
While the majority of our friends and families were given e-vites, for those without an online presence, they were given Invitation cards printed on eco-friendly handmade papers. Additionally, all guests were requested to not bring plastic in form of packaging.
VF: Did you use a wedding planner, or did you do this wedding by yourselves?
All credit goes to Shreya's parents. Samir Saha, Shreya's dad, himself is a wedding planner, there was no need for anyone else. Alpana, Shreya's mom, is the strong moral support behind him. He even found a wedding place which synced with our idea of having a cruelty-free celebration. The place is aptly named as "Ahimsa Bhavan" and the whole place is decorated with Sanskrit chants about non-violence and compassion. We are lucky to have such parents who have made our dreams as their dreams. Ideally, it should be otherwise.
VF: What advice do you have for other couples who want to do something similar?
We know that any couple who is planning to start a new life would like to do it in the best way possible. Our kind of events are considered difficult to execute but that is because in current times most of the things are made easy by putting more money and fewer efforts. We will encourage them to believe in it because, in the long run, we put our own future at risk. If we are going to take an oath with our partner for a happy and long future, we need to create it from the onset. And love has the power to make anything possible. If required we can surely share our experience and the planning with anyone interested.
VF: Will you be having a vegan-moon too?
Well, this will be one of many honeymoons! We chose to rest in the lap of the forest this time hence we are going to spend some time in Jim Corbett National Park and then Kaziranga National Park post marriage. We have made sure that we are not opting for any elephant riding or any activities which are considered cruelty to animals. Shreya is an expert in planning travels to anywhere in the world. She even has her own travel company called "Travel Love Repeat" where she conducts plenty of vegan tours as well. Thus, it has never been a problem to travel with her even being a vegan; she somehow manages to find out few or more vegan restaurants at every place we go. All of our travel plans have been vegan since 2015 July.
With a wedding full of such compassion and love, Shreya and Abhinav are bound to live a life of happiness together. Congratulations!