Kapil Sharma Is PETA's Person of the Year
As host of the smash hit Comedy Nights With Kapil, actor, singer and producer Kapil Sharma has brought home many a top prize, and now he'll have one more to add to the list, courtesy of PETA India. For his dedication to promoting the adoption of dogs from animal shelters or the streets and helping animals in other ways, Sharma is being named PETA India's Person of the Year for 2015.
Says Kapil, "I am thrilled to learn that I'm being recognised for helping animals. I love to make people laugh but what we all should know is that dog and cat homelessness is no laughing matter.  Each one of who has the time, resources and patience to welcome an animal companion into our homes should adopt a needy dog or cat from shelters or the streets. Zanjeer and I will cherish this PETA award forever!"
From coming to the rescue of puppies on the set of Comedy Nights to opening his home to retired police dog Zanjeer – who frequently accompanies him to work – Sharma has come to the aid of animals in need and spoken out countless times for homeless dogs and cats as well as formerly abused elephant Sunder, who is now safe at a sanctuary with other rescued elephants.
Sharma and the other stars of Comedy Nights also appeared in a PETA campaign to encourage the adoption of homeless animals.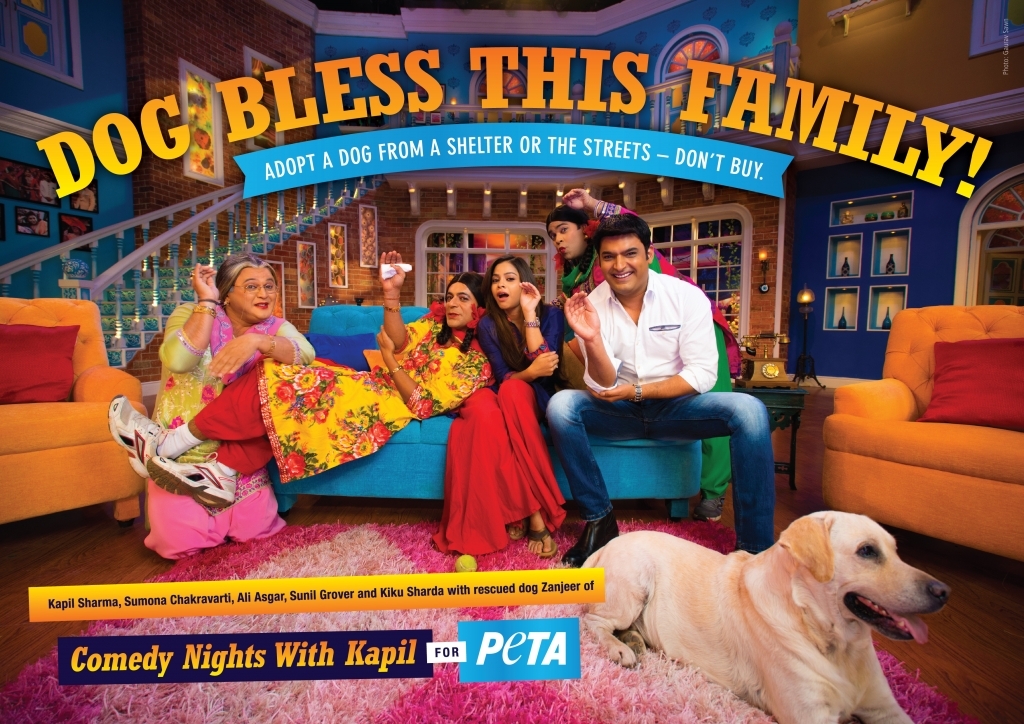 Past recipients of PETA India's Person of the Year Award include Dr Shashi Tharoor, retired Supreme Court Justice KS Panicker Radhakrishnan and actors Hema Malini, R Madhavan and Jacqueline Fernandez.
You Can Help!
If you have the time and resources to bring joy into the life of a homeless dog or cat, adopt a lovable and loving homeless animal. Make it official: sign our pledge to adopt animals from shelters or the streets and never buy them from breeders or pet shops.